MPs Walk Out Of Mombasa Retreat Again
The parliamentarians, representing all political parties, had sought Ksh10 billion from the Treasury
MPs during a past National Assembly session. /DAILY NATION
Kenyan Members of Parliament (MP) walked out of an induction seminar for the second time on Tuesday, January 24, 2023.
On Monday, January 23, over 200 MPs walked out of the seminar in mass protest over the delayed disbursement of the National Government Constituency Development Fund (NG-CDF) by the National Treasury.
The parliamentarians, representing all political parties, had sought Ksh10 billion from the Treasury while lamenting that the services at the Constituency level had stopped temporarily.
Kasarani MP Ronald Karauri during the National Assembly Directorates of Departmental Committees and the Audit, Appropriations, and other Select Committees induction Workshop in Mombasa on January 23, 2023. /TWITTER.NATIONAL ASSEMBLY
They added that they could not carry out any development agenda due to the delay in the disbursement of funds.
Embakasi East MP Babu Owino told the press after the walkout that even those working at the CDF offices countrywide had not been paid because of a lack of funds.
"We cannot do anything in the Constituency. Our people are crying because they want bursaries.
"We want the daily revenue collected by the National Government to be channelled directly to CDF bank accounts so that we can start issuing bursaries," he stated.
Babu Owino further noted that the government should not refer to a lack of funds as a result of being drained by the previous administration as an excuse for the delayed disbursement of money as daily revenue which amounted to Ksh7 billion a day.
Mumias East MP Peter Salasya had earlier vowed that the legislators will continue holidaying in Mombasa as they cannot travel to their respective constituencies without cash to hand out to the electorate.
The legislators had hoped to receive at least Ksh50 million each for bursaries ahead of the resumption of learning in primary and secondary schools. However, only Ksh7 million was disbursed per MP, out of which only Ksh5 million is used for bursaries with the remaining Ksh2 million going to administration expenses.
They also criticized the government for spending billions of shillings on hosting them in a five-star hotel, while thousands of children in their constituencies were unable to attend school due to lack of funds.
"The Cabinet Secretary Treasury Prof Njuguna Ndung'u has been promising that we will have the NG CDF but so far no monies have been remitted to the accounts, yet we are here using billions of monies in this hotel.
"Yet our students and their parents who voted for us are at home. This defeats the purpose of elected as MPs," Timothy Kipchumba MP Marakwet West said.
The MPs added that they summoned Treasury Cabinet Secretary (CS) Njuguna Ndung'u several times but he is yet to honour the summons.
"We don't want party affairs it's a children's issue that we are addressing. We have been very tolerant the state promised Ksh2 billion every week starting December 9, you know the date today we have got nothing until the school reopening has caught up with us.
"Many children will be sent home for lack of school fees. Why would I sleep in a five-star hotel when children in my constituency are at home?" Karachuonyo MP Andrew Okuome posed.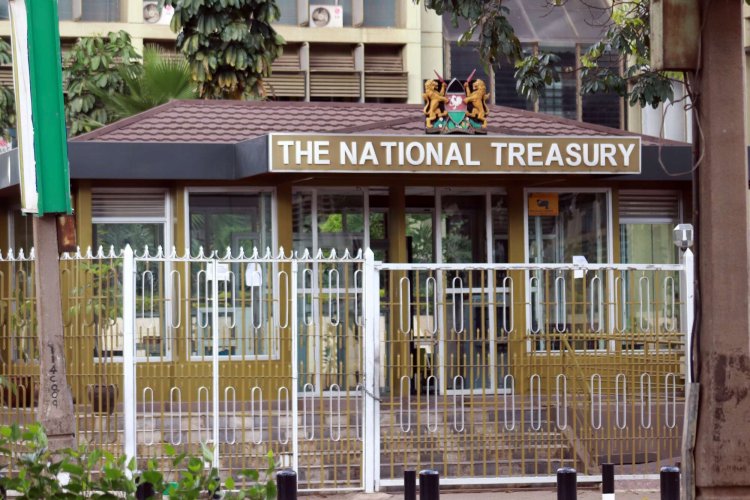 Outside the National Treasury building in Nairobi. /FILE