Githeri Media: Story Of Controversial Term That Grew Digital Journalism
A long time ago, headlines such as 'President Kibaki opens Thika Superhighway' or 'President Uhuru opens the second phase of SGR line' were taken with utmost seriousness
A laptop logged in to Viral Tea's website. /MARVIN CHEGE.VIRALTEAKE
The term 'Githeri Media' has been used for nearly five years to refer to Kenyan media houses' obsession with covering what Viral Tea views as 'viral' content instead of the usual serious issues Kenyans have for years been used to.
A long time ago, headlines such as 'President Kibaki opens Thika Superhighway' or 'President Uhuru opens the second phase of SGR line' were taken with utmost seriousness by members of the public as transport issues were expected to be resolved. Nobody noticed the unusual titbits, until the 2017 general elections.
Amidst the voting exercise, a man named Martin Kimotho was captured on camera eating githeri, a mix of boiled maize and beans, from a polythene bag as he queued to cast his vote. The photo was shared on social media platforms that day and it went viral, turning him into an overnight celebrity.
Martin Kimotho captured eating githeri while queueing to vote in the 2017 general elections and a man taking a selfie with him. /FILE
The photo was then picked up by mainstream media platforms and stories were made, which enhanced Kimotho's celebrity status. For days, local TV stations and newspapers gave him extensive coverage as he was nicknamed 'Githeri Man' and eventually handed a Head of State Commendation (HSC) by former President Uhuru Kenyatta.
What however shocked the public was the nature at which Kimotho was awarded, as the media was largely accused of giving airtime to Kimotho who was doing what an ordinary citizen would do, as well as his delicacy which is enjoyed by many communities across the country, despite its origins being the Central region. The coded message was that the mainstream media was controlled by – and therefore supported – Uhuru Kenyatta's government.
The labelling of Kenya's mainstream media as 'githeri media' underscored two important issues; one, the public had lost its faith in mainstream media and two, many moved to alternative platforms for news, including social media, where the serious issues regarding the elections were discussed.
Memes At 2022 General Elections
A similar case was witnessed in the 2022 general elections where daring Kenyans followed in Kimotho's footsteps to test out various stunts of their own, ranging from 'Sina Maoni' man to 'Towel man' and one which captured a man eating a loaf of bread as he queued to vote.
There were 23.35 million internet users in Kenya in January 2022. Kenya's internet penetration rate stood at 42.0 per cent of the total population at the start of 2022, and a past report by Portland Communications, a UK-based political and public relations consultancy firm, revealed that Kenya has arguably one of the most active online communities on the continent after Egypt, Nigeria and South Africa.
Significant social and political issues are discussed by Kenyans on Twitter (KOT). The platform has become a powerful source of information, a point of reference for those disillusioned with the country's mainstream media (which is true for the Kenyan media too.) as well as a force for reprimanding bad behaviour, as was recently evidenced in the case of General Muhoozi Kainerugaba, son of Uganda's president, Yoweri Museveni.
Why Githeri Media?
Kenyans believed that digital media platforms specialised in what they viewed as sensational reports, but would not expect mainstream media houses to follow suit. One Kenyan for instance took fault with NTV's coverage of former President Uhuru Kenyatta driving himself in a pickup truck on Friday, October 21, despite being covered by numerous media houses.
"How is this news? What's he supposed to be doing? This is how the media lost relevance in Kenya because of concentrating on sensational issues. Yet the key challenges facing Kenyans are rarely highlighted," Ephraim Njenga wrote.
Journalists who spoke to Viral Tea believe that Kenyans are yet to get used to the new dimension of reporting; viral news which is simply defined as networked news stories that spread online mostly through social media in a much faster and wider manner than other news stories.
"But people use githeri media phrases without knowing the history or when they don't agree with what is being reported including when they think news should just be about "serious" issues," one of them told Viral Tea.
He adds that these days, the criteria for what makes a newsworthy story include the prominence of a subject. President Ruto driving himself? The Queen's dog giving birth? Azziad Nasenya dating a famous politician's son? Those are today's news items.
This writer opines that the news atmosphere in the digital environment these days has almost no room to focus on just the serious items; that is no one will spend a minute of their time reading something normal and out of the ordinary. Kenyans are actively looking for solutions even to their everyday life problems and among the ways they can easily get it is through the media.
Another misunderstood subject is journalists affiliated with digital media platforms being labelled as 'bloggers'. How many times have you heard an honest, hard-working Digital Journalist being called a blogger by a disgruntled Kenyan?
"Digital journalism is NOT blogging. Journalism today composes of Digital (the internet) on top of other mediums that they use which includes Print (newspapers, magazines, periodicals) as well as Broadcast (TV, radio)," this writer states.
At the end of the day, journalists serve to inform their audiences and do the hard work of getting facts together and assessing what would interest the majority of Kenyans and leave the decision to the audience.
At times, journalists have missed one of the steps or been otherwise misled. And because credibility is the major currency of their profession, all journalists worth their weight in gold will always set the record straight.
Cut Above The Rest
One these days gets their news from platforms such as Twitter, Facebook, Instagram, and WhatsApp among others before the same news items are relayed across TV and radio stations.
With the popularization of social media came the rise of digital media houses complete with online publications, social media posts and videos, all shared in real-time. Viral Tea was established officially in February 2021 and within a year has given the legacy media houses, both mainstream and digital, a run for their money thanks to its timely news updates.
Viral Tea thrives under the Rule of Majority in producing news and multimedia content that is of interest to a majority of Kenyans. A majority of Kenyans online are between the ages of 20 and 40 years and use platforms such as Facebook and Twitter more due to the limited data bundles they have within a short period.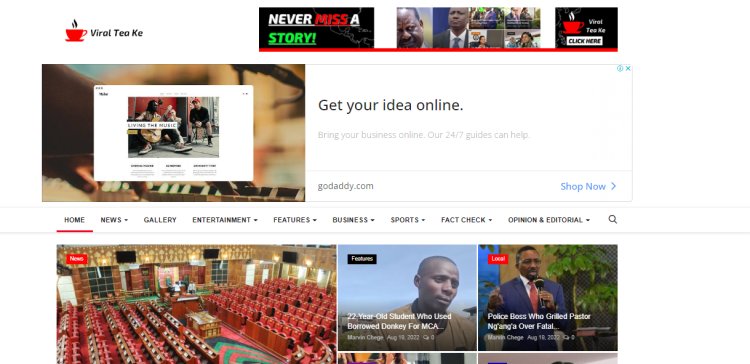 A screenshot of Viral Tea's homepage. /FILE
They have a short attention span and scroll through but pause to read what catches their eyes. Assuming that they have already read the story being written and aren't looking particularly for the same information, our work is to give them new angles.
As a purely online-based publication, we don't have the luxury of having reporters/correspondents in the field interacting with sources and attending press conferences. We, however, do have the advantage of accessing multiple sources from one location (remotely) and evaluating the newsworthiness of the information we find.
As such, part of our news content comes from curating news from all online publishers, creating new angles that make an otherwise bland story, interesting to many Kenyans online and shareable.