Patience Nyange: Ex-Governor Candidate Speaks After Landing New Role
Nyange stepped down from the Media Council of Kenya (MCK) on February 9, 2022, to contest the Taita Taveta county seat
Former Taita Taveta gubernatorial candidate, Patience Nyange. /FILE
Patience Nyange, who had vied for the Taita Taveta gubernatorial seat in the August 9, 2022, general elections, is the new executive director of the Association of Media Women in Kenya (AMWIK).
The announcement made by the association on Tuesday, November 15 sees her take over from her predecessor, former Capital FM editor Judie Kaberia, effective immediately.
"The board wishes to announce the appointment of Patience Nyange as the new executive director effective November 15.
"She has 18 years of experience in various communication fields including broadcast journalism, international public relations and communications, social media management and mentorship for young journalists," AMWIK stated on social media while wishing her the best in her new role.
Former Taita Taveta gubernatorial candidate, Patience Nyange speaking during a media briefing with KEWOLA on October 4, 2022. /COURTESY
Speaking moments after AMWIK announced her appointment, Nyange was grateful for the new role having been flooded with congratulatory messages and termed serving at its top helm a privilege.
"I woke up to congratulatory messages. It's the Lord's doing and it's beautiful. It is with great humility and pleasure that I accept this offer to join the Association of Media Women in Kenya (AMWIK) as an Executive Director effective today.
"The expectations and goals outlined for this role are well-matched to my abilities. I consider it a great privilege to serve AMWIK. To all my family, friends, mentors and colleagues in the industry, thank you for your unwavering backing. I am forever indebted to you. I won't do this job without your support. So, through it all, I believe you will be right here with me. See you at the top. I appreciate your guidance in advance," she wrote on social media.
As for Kaberia, she has since taken up a role at the Friedrich Naumann Foundation East Africa, part of the larger foundation which is a German foundation for liberal and libertarian politics, related to the Free Democratic Party and promotes individual freedom as well as classical liberalism.
Nyange stepped down from the Media Council of Kenya (MCK) on February 9, 2022, to contest the Taita Taveta county seat, which was eventually scooped up by Andrew Mwadime, who ran as an independent candidate. Mwadime shocked incumbent Granton Samboja with 49,901 votes against Samboja's 23,703 votes.
"Today I officially resign as a Council Member at the Media Council of Kenya I join a number of public servants who have resigned to seek elective posts during the 2022 General Election.
"I am heading to Taita Taveta County to seek an opportunity to serve as Governor, the 3rd This follows Gazette Notices Number 430/1/2/3/4/5 of 20th January 2022, and the Court of Appeal decision rendered 8th February 2022, pertaining to the resignation of state and public officers who intend to seek offices in the 2022 General Election," she announced at the time.
Nyange was also seeking to succeed former Governor Samboja.
"My people have asked me to. I am a child of Taita Taveta County and when they tell me what they want me to do for them, I will heed their call," she told Viral Tea in an exclusive interview after her announcement on Monday, June 14, 2021.
She had two international board appointments including her appointment at the Global Alliance for Public Relations and Communication Management.
She featured her editorial works under the weekly #KenyaWomenSeries alongside writer, editor, and communications professional Esther Kiragu, which highlights Kenyan women disrupting the status quo and making a difference. The series, which Viral Tea had also featured as its landmark project in 2021, helped curate stories of incredible, inspiring, powerhouse Kenyan women.
She was a member of AMWIK and the Public Relations Society of Kenya (PRSK), as well as a member of the Chartered Institute of Public Relations (CIPR) in the United Kingdom (UK). She worked as an Assistant Director (Office of the Chairperson) at the Kenya National Commission on Human Rights prior to her appointment to the Media Council board in 2019.
She also served as Communications Advisor to the Cabinet Secretary of the Ministry of Devolution and Planning between 2014 and 2016 and as a Broadcast Mentor with BBC Media Action, the charity arm of the British Broadcasting Corporation (BBC) between 2012 and 2014.
Other past experiences include her stint as a journalist with the Norwegian Broadcasting Corporation in Norway (2010-2012) as well as a Radio Presenter / Producer with Baraka FM in Mombasa (2007-2009). Interestingly, she also served as an Election Observer during the 2017 General Elections.
AMWIK is a national media association established in 1982 by a group of women journalists before the United Nations (UN) women's conference held in Nairobi in 1985, at a time when the voices of women and their issues received little attention in the media.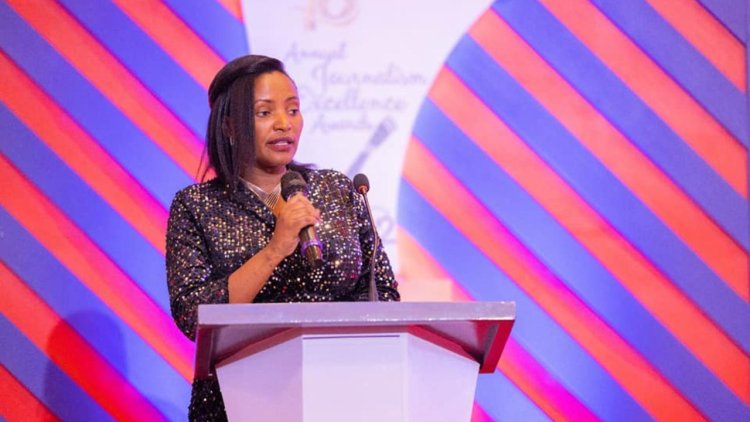 Former AMWIK Executive Director, Judie Kaberia, at the Annual Journalism Excellence Awards on May 6, 2022. /FACEBOOK.JUDIE KABERIA