Profiles Of 4 Individuals Ruto Named To Hustler Fund Board
Chelugui earlier in January had revealed that the names of the members who will seat on the board had been forwarded to various state agencies to commence background checks...
President William Ruto speaking at a meeting with independent commissions and constitutional offices on January 17, 2023. /WILLIAM RUTO
President William Ruto's government has listed individuals expected to sit on the advisory board of the flagship Ksh50 billion Hustler Fund project.
In a gazette notice dated Friday, January 20, the Head of State through Cooperatives and MSME Development Cabinet Secretary (CS) Simon Chelugui appointed Irene Muthoni Metha-Karimi as the chairperson of the newly established Financial Inclusion Fund (Hustler Fund).
Lawrence Kibet Chelimo, Paul Ndore Musyimi, and Hardlyne Lusui were also appointed by CS Chelugui to the board.
The appointments were made in line with Section 10 (I) of the Public Finance Management Act and will last for three years effective from January 13, 2023.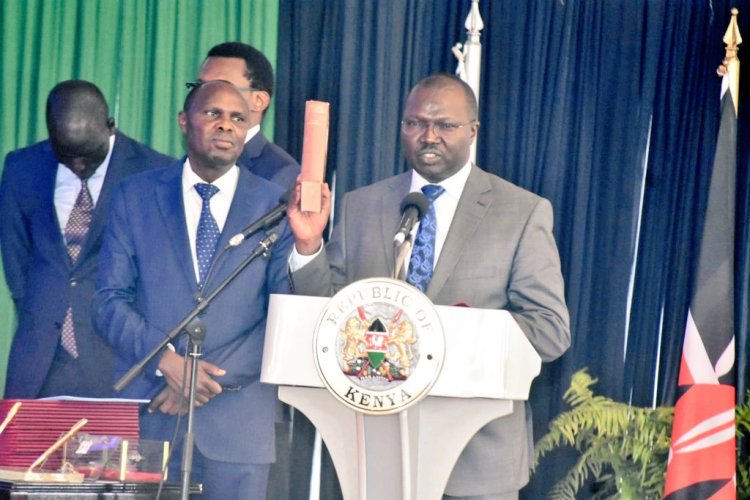 Simon Chelugui taking his oath of office on October 27, 2022, as Cooperatives CS. /TWITTER
"According to the regulations the board provides oversight on the administration of the Hustler Fund and consists of three other persons who are not public officers. The Fund's administrator is an ex-officio member," CS Chelugui stated.
The Hustler Fund is required to have an eight-member advisory board and the regulations dictate that the fund will have a non-executive chairperson appointed by the President.
Chelugui earlier in January had revealed that the names of the members who will sit on the board had been forwarded to various state agencies to commence background checks on the recommended individuals.
The names had been forwarded to relevant state agencies including the Directorate of Criminal Investigations (DCI), Ethics and Anti-Corruption Commission (EACC) and the National Intelligence Service (NIS) for proper background checks before the nominees are given the green light to oversight the Hustler Fund.
Profiles
Karimi boasts over 30 years of experience in project management having worked with USAID/Kenya, Chemonics International, PricewaterhouseCoopers, and Kenya Investment Mechanism (KIM) among others. She holds a bachelor's degree in Business Administration from Andrews University, Berrien Springs in Michigan, a Certified Performance Technologist (ISPI, 2007) and other relevant certificates in her field.
Chelimo, on his part, has over 16 years of experience in treasury, tax, applied intelligence and innovation, investor relations, financial reporting and analysis, strategic planning and analysis, corporate development functions and financial markets. Prior to his appointment to the Hustler Fund board, he worked with reputable organisations among them the World Bank, DfID, Africa Development Bank, KenGen and Nairobi Stock Exchange.
He holds two bachelor's degrees in Law and Commerce (Finance Option) and a Master's in Business Administration, all from the University of Nairobi, and is currently pursuing a Master's in Public Policy and Management (MPPM) finalist from Strathmore University.
Lawyer Musyimi, who CS Chelugui revealed has been a firm supporter of President Ruto and the Kenya Kwanza administration, holds a Bachelor of Laws and a Master of Laws; both from the University of Nairobi He also has a Post Graduate Diploma from the Kenya School of Law.
Lusui has a Bachelor of Information Science from the Kenya Methodist University and a Diploma in Information Studies from Eldoret Polytechnic. She is pursuing a Master's Degree in Women's Leadership and Governance at the University of Nairobi.
In draft regulations released by the National Treasury on November 11, 2022, Kenyans were warned against committing four offences that would risk them paying fines of up to Ksh10 million or serving a jail term of five years.
Among the offences include providing falsified information when applying for the fund which will draw penalties. Others include misappropriation of the funds and its assets in the Financial Inclusion Fund.
As the Fund will have top-secret ways of managing it, revealing private information in any manner will attract similar fines.
"A person having possession of, or control over, or access to, any documents, information, returns or forms and communicates anything contained therein to anyone other than a person to whom he is authorized by the Board to communicate it or.
"Otherwise than for the purposes of these regulations, commits an offence and shall be liable to a fine not exceeding Ksh10 million or a term of imprisonment not exceeding five years, or to both," read the regulations in part.
However, the Ksh10 million fine was later clarified by CS Chelugui to apply to officials managing the funds who will be found abusing them and not those who default on the Ksh50 billion loan kitty.
President William Ruto speaking during the launch of the Hustler Fund on November 30, 2022. /WILLIAM RUTO