How Motorist Foiled Targeted Robbery In Nairobi Road Traffic [VIDEO]
This has been a trick used several times by attempted robbers to force motorists to...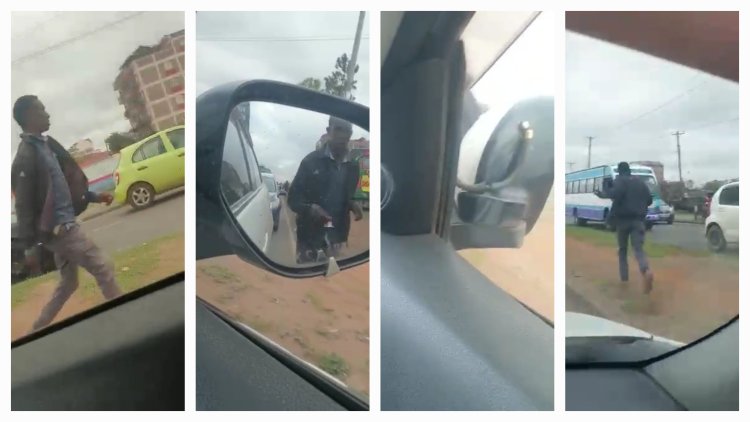 A collage of a robber knocking off a motorist's side mirror in an attempt to rob him. /VIRALTEAKE
A motorist driving in traffic along Jogoo Road in Nairobi was able to notice in time that he was being targeted for an attempted robbery along the busy road.
In an undated video seen by Viral Tea, the motorist was moving with the traffic when he saw a man donning a black jacket head towards his car.
He could be seen cutting to the front before disappearing to the back, beyond the view of the motorist who was filming the entire proceedings.
A hawker stopped beside him selling his wares before traffic started moving. All the while, another man in a black jacket ghosted past him as he slowly drove off.
Watch the video:
Kanairo.
1. Power mirrors are underrated
2. Watch till the end how this motorist noticed he was being targeted

And before you ask, this is Jogoo Road pic.twitter.com/BeZ56g0J8t

— Marvin Chege ???????? (@marvin_chege10) November 26, 2022
Panning the camera towards his side mirror, the driver realised he was being targeted when the second man started jogging towards him to the point of knocking the side mirror backwards before jogging away, seeming to apologise for doing so by accident.
However, instead of opening the window to readjust the mirror, the motorist kept his window closed as the second man crossed the busy road to the other side.
His left mirror was folded inwards, therefore he used the car's power mirror system to adjust them back into place. Meanwhile the first man was captured talking on his phone.
This has been a trick used several times by attempted robbers to force motorists to open the windows and doors so that they can mug them off.
The tactic gained prominence on Monday, June 21, 2021 when KBC anchor Shiksha Arora narrated how three robbers attacked her from her car at Globe Roundabout in Nairobi.
"Yesterday at around 5:20 PM I got robbed at the globe roundabout flyover. Guy 1 knocked my side mirror bending it backwards and walked away. While I was rolling down my window slightly to reposition the mirror, guy two started banging the front seat passenger window loudly.
"As I was looking to my left guy three slid his hand in through my window and unlocked my car, got into the back seat. Grabbed my purse & asked for my phone, at this point in time I was in panic mode, couldn't say anything. He asked for it again and reached for my neck, strangling me," narrated Shiksha on Twitter.
She responded by hooting loudly to get the attention of the other motorists who stepped out of their cars in numbers, a matter which scared off her attackers.
"As he was strangling my neck, I desperately gasped for air, I started hooting loudly to get some attention hoping somebody would help me. People started getting out of their cars and that's when he let go and fled. He went with my purse but I am traumatised that he attacked me," she added.
Recently, security agencies have embarked on crackdowns across the city after complaints were raised regarding criminals terrorizing Nairobi residents.
On Friday, November 25, police officers raided Embakasi Estate in Nairobi and flushed out 16 suspected muggers from their hideout within the Transami area.
The raid was carried out after police received a tip-off from members of the public regarding the suspects. Among the items recovered during the operation included 37 knives and a toy pistol.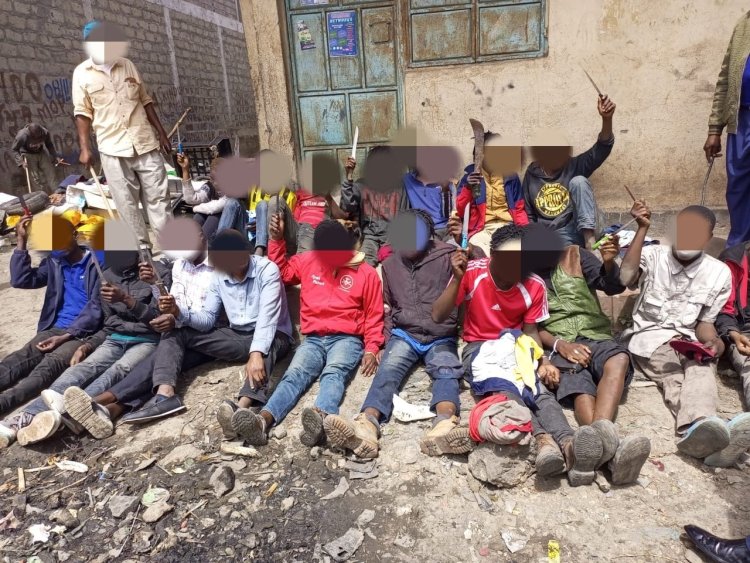 16 suspects arrested in Transami area, Embakasi, Nairobi on November 25, 2022. /NPS