Yvonne Okwara's Reaction To Brilliant Moderation of Presidential Debate
Kenyans had particularly lauded the news anchor for her challenging questions to Ruto, which on his capacity was struggling to answer.
Citizen TV anchor Yvonne Okwara. /FILE
Citizen TV news anchor Yvonne Okwara was over the moon after moderating the 2022 presidential debate which saw Deputy President William Ruto feature in a solo fashion.
Speaking on Thursday, July 28 during the NewsGang show, Okwara described the inner workings that culminated in the highly-anticipated debate, given that everyone from the secretariat to the technical team was involved in the planning and live execution of the debate, which streamed across all national TV and radio stations.
She noted that the huge operation involved local media houses coming together as one and working with each other so well that she believed they had been with each other for many years.
UDA Party presidential candidate and Deputy President William Ruto during the presidential debate at the Catholic University of Eastern Africa on July 26, 2022. /FILE
"It is an operation like I have never witnessed and I have been in this industry about 16, 17 years. All media houses, from all departments, were present.
"That was a massive operation, there was no media house, we were all one newsroom and it was moving in sync as if we've all been working together for decades," she revealed.
While describing the moderation of the debate as the highlight of her media career, Okwara noted that the role of the moderator was just as important as that of the presidential candidate as they drove discussions of the event; before, during and after.
"I think it is a very solemn spiritual role to play. It was the highlight of my career so far. That stage is big for the candidates.
"It is also big for the journalist conducting the debate. It is something that I will remember- the good and the bad. I was honoured to have played that special duty," she added.
While giving her view on the debate being a contest, Okwara assured that it involved two candidates having a discussion with members of the public as well as the moderators, and was not much of a competition as many might view it to be.
Okwara moderated the debate alongside Eric Latiff of Spice FM and KTN News, under the Standard Media Group (SMG). Kenyans had particularly lauded the news anchor for her challenging questions to Ruto, which on his capacity was struggling to answer.
"Yvonne Okwara; helping the United Nations restore world peace, Since 1906.
"We are proud of Yvonne Okwara Matole. She has all the journalistic virtues that will be needed for the Presidential debate. Congratulations!
"They delivered one of the greatest nights for journalism in Kenya. Kudos," read some of the praises online.
Exiled lawyer, Miguna Miguna, was however critical of the performance of the two journalists, noting that despite their good questions, they did not put to task the United Democratic Alliance (UDA) manifesto.
"Eric Latiff and Yvonne Okwara scored 40/100 in their moderation of the solo debate. They asked some very good questions.
"But they did so as if they were doing it on behalf of President Uhuru Kenyatta and Raila Odinga. They avoided interrogating UDA's manifesto," he tweeted.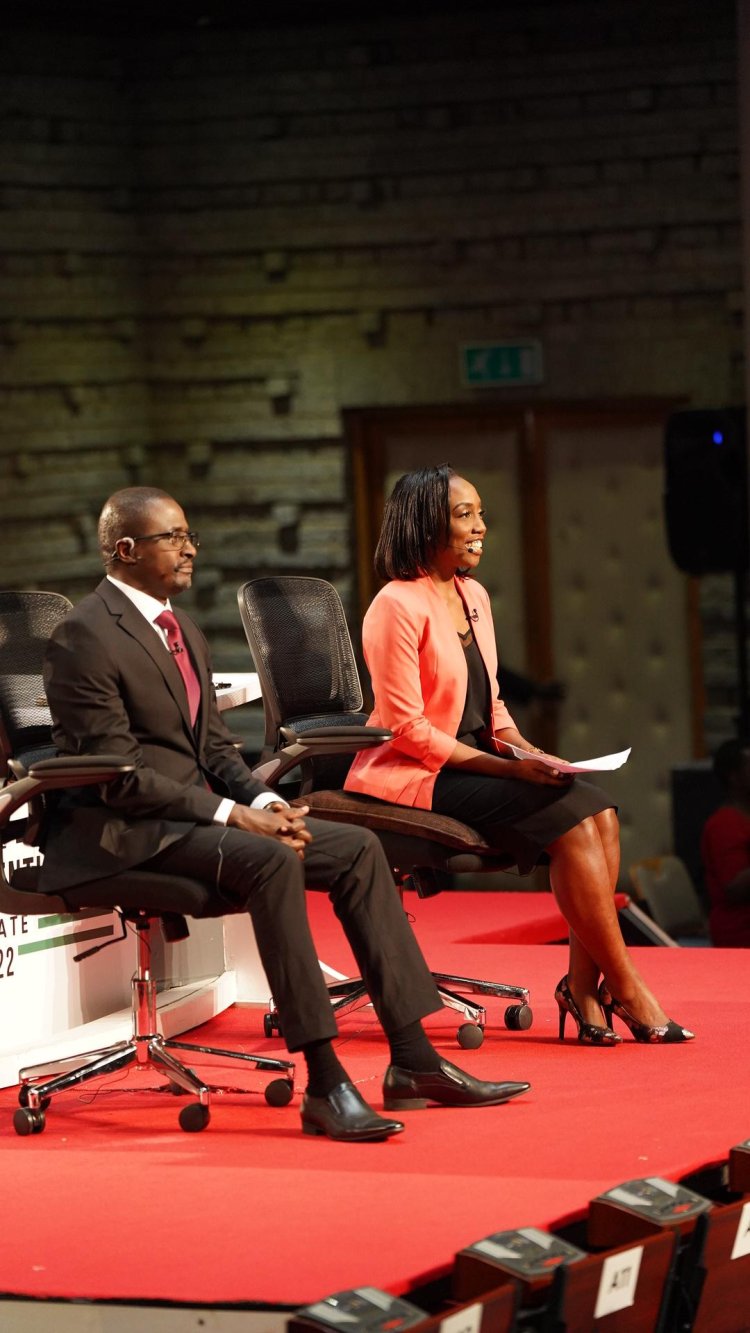 Yvonne Okwara and Eric Latiff at the Presidential Debate of July 26, 2022. /PRESIDENTIAL DEBATES KENYA