Eric Latiff: From Dumping Engineering To Moderating Presidential Debate
Latiff is a seasoned broadcaster and journalist with over 20 years of experience as a media practitioner in radio, TV and digital.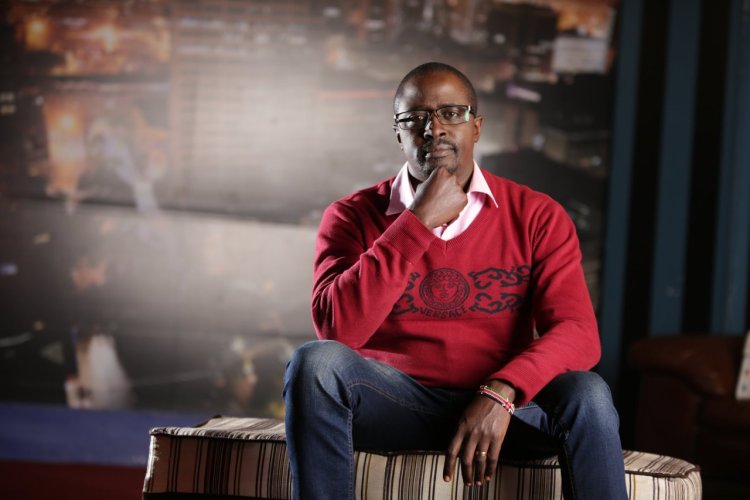 Eric Latiff of Spice FM. /FILE
The lineup of moderators for the Presidential Debate set for Tuesday, July 26 had a new name on the pick of A-listed journalists. KTN News' Eric Latiff will step into the spotlight to moderate the grand showdown of the debate series, Deputy President William Ruto against former Prime Minister Raila Odinga.
Latiff is a seasoned broadcaster and journalist with over 20 years of experience as a media practitioner in radio, TV and digital.
But just like his co-moderator, Citizen TV prime-time news anchor Yvonne Okwara, Latiff has a different background from journalism. He first trained as a Telecommunications Engineer at the Kenya Institute of Mass Communication (KIMC) between 1995 and 1998.
Spice FM and KTN News journalist Eric Latiff to moderate the presidential debate. /PRESIDENTIAL DEBATES KENYA
Latiff dove into media and was part of the founding team led by Rose and David Kimotho in 2006 to launch K24, a 24-hour news channel which only aired news bulletins at 1 pm, 4 pm, 7 pm and 9 pm. He oversaw the station burst into life through its modular news concept that was slowly absorbed by all stations across the country.
"I was the founding Station Manager for K24, Kenya's first 24-hours television news channel. I was deeply involved in the conceptualisation of the vision and mission, program format design, recruitment and training of founding staff, technical design and overseeing set up as well as the day-to-day running of the station for the first year," Latiff's description on LinkedIn reads in part.

He then joined the Standard Media Group (SMG) as KTN's prime-time news anchor in April 2006 and spent six years sub-editing news bulletins, presenting them, conducting live and recorded interviews, program design and implementation and news content production at the station.
Before he joined SMG, he was working for Capital FM as a presenter, producer, programmes manager, newsreader and editor after he joined in 2003. He was even at the station before its acquisition by Chris Kirubi in 2004.
The Mombasa road-based media house then offered him the news anchor job in 2005, which prompted him to come up with an idea very few media houses would accept; working two jobs at two media houses at once- in this case, retaining his job at Capital FM while working for KTN.
"I needed to seek CK's consent to anchor the 9 pm TV news while I retained my job at Capital FM. When he came to the newsroom on his routine visits, I nervously whispered to him, fingers crossed," Latiff revealed in 2021.
Kirubi gave the green light on Latiff's idea but on the condition that KTN writes to him, acknowledging that Capital FM remained the primary employer.
During that same year, Latiff won the English Radio News Anchor of the Year award which was organized by officials from the Kenya Union of Journalists (KUJ). However, like many other journalists, he turned down the prize as the competition was largely controversial, especially with claims of disregard for credibility and integrity.
Latiff joined Spice FM in 2019 when it was being launched by SMG. He was named as one of the hosts of The Situation Room, the only uninterrupted morning talk show on Kenyan radio which was the home of hard-hitting political commentary and penetrating insights about the state of the nation.
"A place for hard truths, debates and elevated conversations. Witty, political, engaging, deep and controversial," he describes the show.
Latiff also runs two digital agencies. They include Zeze Digital, a data-driven marketing, advertising and training agency and Zeze Tunes, a digital video content aggregator, digital rights manager and distribution firm.
He describes Zeze Digital as a data-driven marketing and communications agency based in Nairobi, Kenya offering the creation and implementation of digital marketing strategies that are customer-focused by using data analytics to profile a brand's consumers and then tailoring communication and marketing campaigns to specific audiences.
Services include: Corporate Digital Media Training, Digital Strategy, Digital Solutions Design and Build, Google Adwords, Facebook Advertising, Digital Media Buying and Social Media Management, among others.
"Zeze Tunes is a digital content aggregation, distribution and rights management company that works with video content creators to reach audiences on digital platforms. We also market the content with key advertisers and brands to generate revenue for the creators," he explained.
Latiff also has experience interviewing top newsmakers and was part of the panel selected to interview Azimio flagbearer Raila Odinga and his running mate Martha Karua on June 28.
Martha Karua and Rigathi Gachagua shake hands during the 2022 Deputy Presidential debate. /PRESIDENTIAL DEBATES KENYA
The debate on Tuesday, July 26 is considered one of the litmus tests of his career. He will be tasked with challenging Ruto and Raila with questions regarding what their plans are when elected president after the August 9 polls.
Other moderators such as Smriti Vidyarthi of NTV and Ken Mijungu of KTN News will moderate the first debate session pitting Prof George Wajackoyah of Roots Party and Agano's David Mwaure. These are candidates with a popularity of below 5 per cent in three recent opinion polls.