Inside John Mbati's Interview With Citizen TV (VIDEO)
He recently teamed up with Faith Kalondu to release Huru...
Kenyans.co.ke journalist John Mbati. /FACEBOOK
John Mbati, who is currently a sub-editor at Kenyans.co.ke, an online news website providing the latest in breaking and local news across the country, was interviewed by Citizen TV on Sunday, July 3.
He recently teamed up with Faith Kalondu to release Huru, a gospel song reminding us of the sacrifice Jesus Christ made for the sake of the whole world. He has since followed that up with tracks such as Nibariki and Njia.
Mbati opened up on his musical journey to gospel singer and presenter Joyce Omondi, and coincidentally reminisced his return to Royal Media Services (RMS) where he was an intern writing for the Citizen Digital website while reporting for the media house's radio stations.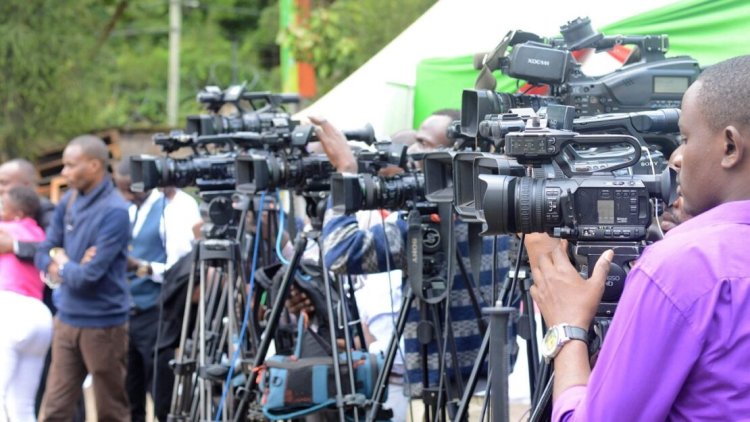 Journalists at work with their cameras. /KUJ
"The song was an introduction on the walk of faith, just talking with God and believing in Him to open the ways, like the way I'm here right now is because of the favour of God," he revealed with regards to his Huru track.
The born-again Christian grew up in a very Christian devoted family where his grandparents were reverends as well as his father, and his mother a pastor. His salvation came when he was in high school, during that time he was in the Christian Union.
"The first idea of music came last year in December when I had COVID, like a majority of people did, so it was that time when I was manifesting and talking with God when I realised I can do something to impact other people just to give them the hope of life and all. Music is creativity, music is an idea, they say the best way to do music is to stick to your own originality and just be yourself, let the fans embrace you as you are.
"When we (a friend) tried the new style of music, he came up with the idea of just rewriting the music and for him, he's a musical director...he's not just a producer. So we've seen a lot of feedback from the people, fans, family, friends, they're excited about the idea...people are saying 'stick to that, let it be your identity and that's what I can also tell other musicians out there," he said.
Mbati had disclosed that he had written the original song, with his producer twisting the style including the chorus and verses to match up to the demands of the modern market. The only thing that was unchanged was the message.
He then disclosed that he is currently working on an Extended Play (EP) project of around five songs which he expressed hope would be released between the end of the year and January 2023. He also expressed hope of doing a number of collaborations with a number of musicians who have been an inspiration to him since he was young.
"I'm also looking to do live performances. I'm asking for God to find me an opportunity to have my own band; to perform for people and to preach to the masses," he added, listing Omondi, Kambua, Guardian Angel, Timame Evans among others as possible collaboration options.
On the Huru song which he collaborated with Faith Kalondu, Mbati had initially revealed that they had interacted with each other in the same university and that she has two other gospel songs released in the space of one year.
"Faith Kalondu has two more songs and we were on the same campus. This song is about our salvation and redemption through Jesus Christ and how the Messiah died for our sins to be forgiven," he exclusively told Viral Tea.
Watch his video below: