Mulamwah Accuses Carrol Sonie's New Lover Of Threatening To Kill Him
On Monday, August 8, Mulamwah used his Instagram stories to claim that Sonie was in a relationship with a married man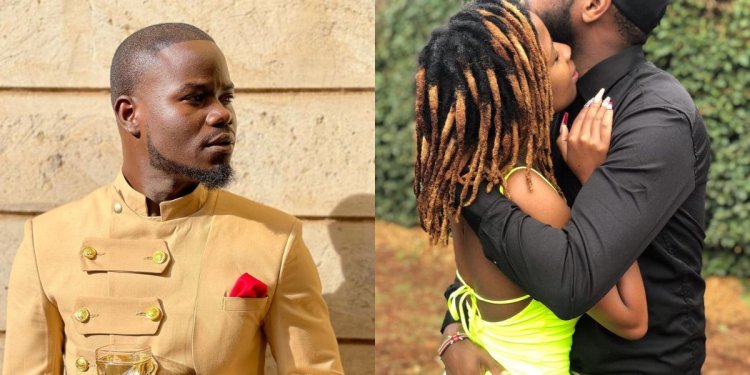 A collage of an unknown man hugging Mulamwah's baby mama, Carrol Sonie. /INSTAGRAM
Comedian David Oyando, alias Mulamwah, has gone on a ruthless exposing spree against the new lover of his baby mama, Caroline Muthoni (Carrol Sonie), days after confirming that she is taken again.
On Sunday, August 7, Sonie shared a photo of her new lover hugging her suggestively and captioned it "Can't get enough of this," leaving many fans questioning his identity especially after it was hidden strategically in the picture.
On Monday, August 8, Mulamwah used his Instagram stories to claim that Sonie was in a relationship with a married man while unleashing the face of her new man as well as that of his wife.
Screenshots of Mulamwah claiming that Carrol Sonie is dating a married man. /INSTAGRAM
Mulamwah further warned Sonie against mentioning his name, failure to which he would expose the multiple partners she has been seeing.
"You're hooking up with 60-year-old men and then you're coming to set standards on the internet with silly pictures and interviews," he said.
He then claimed that the man had approached him with death threats while promising more exposes on the matter.
"He has now threatened me, that he wants to kill me. It's ok. I'm tired already. Make it quick when you come.
"When I hear my name being discussed, 6 more to go. Then we move to the artists. Tell him to get tested, sometimes you ought to keep quiet," the comedian remarked.
Sonie is yet to respond to Mulamwah's new allegations, which come as she had planned to throw a face reveal party so that her curious fans get an idea of who she is dating.
Over the weekend, Sonnie excited her fans with romantic videos with the mystery man saying she is ready for a ring.
In one video, the actress was seen romantically holding hands with the man while showing off her new nails and captioned it; "Babe, I'm ready for the ring now. Thank you."
She also shared a separate video that showed her stroking her lover's beards.
In an interview with YouTuber Nicholas Kioko, the actress said the mystery man has made her feel loved and appropriate and she doesn't mind spending on him.
"I decided to show people I was happy but chose not to disclose who is making me happy. It was a personal choice but I'll do a face reveal party for him soon. He needs it, I'm going to spend it on him," Sonnie said.
Sonie and Mulamwah have been going to explosive lengths against each other following their separation in December 2021, with the latter even claiming that he was not the biological father to Keilah Oyando, a baby they welcomed in 2021.
The actress however alleged that they parted ways for reasons best known to them.
Screenshots of Mulamwah claiming that Carrol Sonie is dating a married man. /INSTAGRAM