Nairobi Expressway To Be Closed Tonight
The closure will remain in place until it is officially commissioned for use.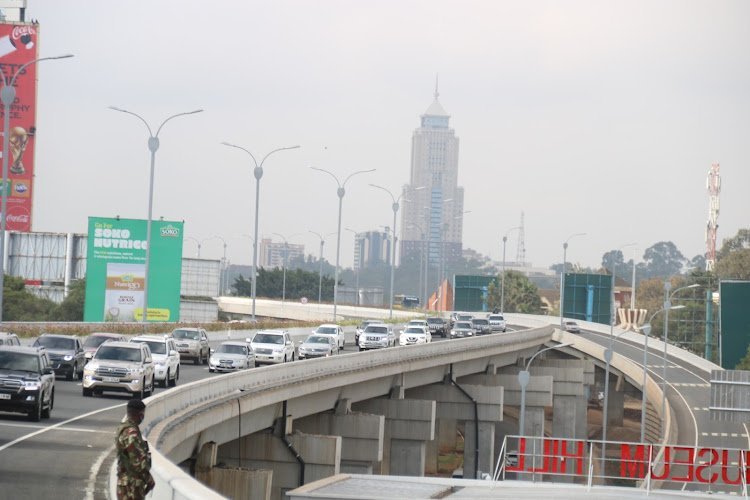 Cars along the Nairobi Expressway. /THE STAR
The Nairobi Expressway will be closed on Saturday, July 30, after Kenyan motorists enjoyed using the elevated road on trial basis.
Moja Expressway, the company tasked with managing the multi-billion road, has announced that it will be closed from 9 pm on that day.
The closure will remain in place until it is officially commissioned for use.
An aerial view of the Nairobi Expressway. /FILE
"The trial period for the Nairobi Expressway, which commenced on May 14, 2022, has come to an end. The road will be closed from 9 pm this Saturday, July 30, 2022 until it is officially commissioned.
"The commissioning will mark a monumental achievement which has given Nairobi a new face. Moja Expressway Company Ltd regrets any inconvenience caused and motorists will be advised upon resumption of service on the Expressway," Moja stated.
Transport Cabinet Secretary (CS) James Macharia opened the road for use on trial basis on Saturday, May 14. Since then, the road has helped reduce traffic particularly between Mombasa Road and Waiyaki Way.
CS Macharia stated that at least 11,000 vehicles had registered to use the multi-billion road during the launch.
He added that the old Mombasa Road would be rehabilitated at a cost of Ksh9 billion. It will also come with a Bus Rapid Transit (BRT) line.
Despite a series of accidents that have occurred especially at toll stations along the road, it had been celebrated for transforming the city's road system.
It was, for instance, named the Best Road Transport Infrastructure of The Year in the Afrika Mashariki Transport Awards.
The Kenya National Highways Authority (KeNHA) recognised the Ksh87.9 billion flagship project by President Uhuru Kenyatta in the awards, the first of its kind in Kenya and East Africa, celebrating excellence in the transport industry.
"Celebrations of triumph as KeNHA scoops awards in the Africa Mashariki Transport Awards. The Nairobi Expressway led in The Road Transport Infrastructure of the Year Award while Virtual Weighbridge emerged 2nd Runners Up in the Best Innovation Technology in Transport," KeNHA stated in part.
Moja Expressway Company, the firm tasked with running the highway, shared its appreciation message to Kenyans for their support, which was important in bagging the award.
The Expressway, which runs from Mlolongo to James Gichuru Road, beat the likes of the Standard Gauge Railway (SGR) as well as the expansion of the Kenol - Marua Road, the Ngong-Suswa Road as well as the revamped Nairobi Commuter Rail.
The elevated road was also recognised around the globe by TIME magazine, which also listed Nairobi as among the world's 50 greatest places.
Signages being installed on toll stations along the Nairobi Expressway ahead of its opening on May 14, 2022. /FILE