Ruto Admits Leaked Audio Of Him Almost Slapping Uhuru
This is after Uhuru had hinted at dropping out of the repeat 2017 Presidential elections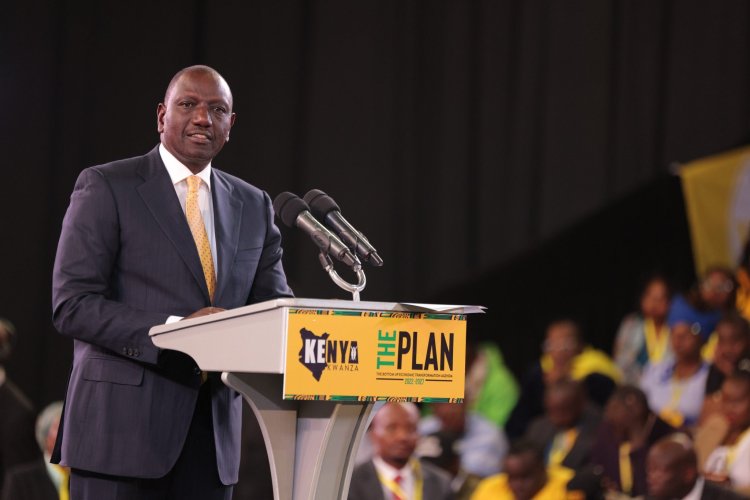 Deputy President William Ruto has broken his silence regarding the audio leaked which captured him narrating of how he almost slapped President Uhuru Kenyatta.
An audio recording of him telling a group of elders that he almost slapped the Head of State had emerged, causing a storm across the country for the majority of Sunday, July 3. This is after Uhuru had hinted at dropping out of the repeat 2017 Presidential elections after his victory was dismissed by the Supreme Court.
Speaking during a rally in Imenti, Meru county on Monday, July 4, Ruto revealed that he could not let his boss quit the race at the last minute, adding that millions of Kenyans had woken up early to queue at the polling stations that year to vote him in.
DP William Ruto speaking at Limoro market, Tigania West, Meru County on July 3, 2022. /TWITTER
"Even those recordings that are being circulated across radio stations saying William Ruto pushed Uhuru I don't know how, did you want him to relinquish his seat that we had woken up at 5 am in the morning to vote for him to be president? Stop your jokes.
"We are the ones who woke up early to vote for him as president. To you people of Meru, did you want me to let Uhuru let go of the position that we gave him...for Mr Kitendawili?" he posed.
He further asked the opposing Azimio la Umoja coalition to stop propagating their own things, adding that they would not be cowed by the audio and that they would fight till the end.
"Even if I forced Uhuru Kenyatta to be president, is there a problem? The people of Azimio should stop propaganda, they are circulating the recording claiming Ruto forced Uhuru Kenyatta to be president.
"Even if you were in my position, would you have let Uhuru leave us in the cold the way we had campaigned for him?" he added.
Ruto went on to add that he personally worked tirelessly to ensure that the duo was elected into office for a second term and would not allow Raila, who was then in the NASA coalition, to topple him.
"I'm even the one who did the most campaigns. I was starting my day early in the morning holding three meetings before the president joined me and because he was my friend. There was no way I would let Raila take that seat from him, even if it meant pushing Uhuru to the limits," he went on.
The recording was shared by Suna East MP Junet Mohamed and according to Ruto, the President wanted to return to Ichaweri following the nullification of the election results by the highest court in the land, which subsequently ordered a repeat election.
Junet at the same time opined that the confession was certain of Ruto's anger issues and that he would cause problems for Kenyans and opponents if he's elected into power.
"Some of them are full of anger and they want to be elected. Let someone go and tell them that Kenyans are more hungry and angry because of the cost of living," Azimio running mate Martha Karua said on the same day the audio was leaked.
President Uhuru Kenyatta with Deputy President William Ruto. /NAIROBI NEWS