How Kenyans Are Buying Unlimited Wi-Fi At Home For Ksh20
Konnect internet is unique from other providers who have similar claims of providing Internet to low-income communities.
A person working on his laptop. /FILE
The era of remote working in Kenya is in full swing, with a majority of companies that do not require offices to operate, graduating to work-from-home methods to keep their businesses running, a feat that grabbed mainstream headlines during the COVID-19 pandemic two years ago.
This, therefore, means that the demand for internet connection at home has shot up, and internet firms have moved with speed to advertise themselves in a bid to offer fast internet for remote working, at an affordable price given the state of today's economy in Kenya.
Ahadi Wireless Limited, operating under the brand name Konnect Internet, is a broadband provider with a mission to bridge the digital divide between high and low-income communities. Its focus is on providing affordable and accessible WiFi to low-income neighbourhoods.
Konnect internet is unique from other providers who have similar claims of providing Internet to low-income communities.
A Konnect hub at Githurai 44 in Nairobi. /KENYA BUZZ
Speaking to Viral Tea, Johnstone Namusasi, Konnect's sales and marketing director gave an overview of the functionality of Konnect's internet compared to other Internet Service Providers (ISP) who offer Wi-Fi connections to be used solely inside one's home, with Konnect offering both indoor and outdoor connectivity options.
"Unlike other providers where you can only use WIFI inside your house, Konnect Internet has installed Routers along the streets of our communities and in building corridors. This means you can connect while walking on the streets or when outside your house rooftop as long as you have an active subscription.
"You can use Konnect Internet outside your community. For instance, if you live in Githurai 44, visit Zimmerman or Roysambu areas to pick up the Konnect Internet signal from our street Routers. You just need to sign in to your account and start using it," he told Viral Tea.
Since its launch in March 2020, Konnect has experienced 300 per cent growth in internet coverage, serving over 100,000 active users across seven Nairobi residential regions: Zimmerman, Roysambu, Hunters, Lucky Summer, Githurai 44, Kahawa West, and Githurai 45.
When probed further regarding the installation process, Namusasi revealed that Konnect offers new customers a 100 per cent free installation; that is one does not need to pay for a router, ethernet cables and labour.
"We have flexible subscription models. Since our customers are price-sensitive and low-income, we create a range of packages that will fit their pockets," he added, to which he gave the following breakdown:
With Ksh20 you get 2 hours of Unlimited Internet for 1 device
With Ksh50 you get 8 hours of Unlimited Internet for 1 device
With Ksh70 you get 24 hours of Unlimited Internet for 1 device
With Ksh350 you get 7 days of Unlimited Internet for 2 devices
With Ksh1,000 you get 30 days of Unlimited Internet for 2 devices
With Ksh1,350 you get 30 days of Unlimited Internet for 3 devices
With Ksh1,600 you get 30 days of Unlimited Internet for 4 devices
With Ksh1,900 you get 30 days of Unlimited Internet for 5 devices
With Ksh2,100 you get 30 days of Unlimited Internet for 6 devices.
"Our cap is not on speed, all packages get 6Mbps-8Mbps per device. We only cap on devices, but one can switch devices if they are not using them.
"We give our clients an option to switch devices they are not using by simply changing the MAC (Media Access Control) address e.g. Phone to a laptop," he added.
A MAC address is a string of characters that identifies a device on a network. It's tied to a key connection device in your computer called the network interface card, or NIC.
The NIC is essentially a computer circuit card that makes it possible for your computer to connect to a network. A NIC turns data into an electrical signal that can be transmitted over the network.
"We prioritize hiring our team from the communities we serve. This means it's easier for our team to provide faster responses to customers facing network challenges.
This has made it possible for us to provide 24/7 customer care service," Namusasi adds, noting that Konnect now has 50,000 access points and a team of nearly 200 staff members.
In September 2022, Konnect expanded its offerings to include Konect Food+, an e-commerce platform that sells household items directly to consumers at discounted prices by sourcing products directly from manufacturers. It also offers door-to-door delivery through its existing internet infrastructure.
In addition, the internet provider has established Konnect Hubs in Githurai 44 and Zimmerman along Thika Road, providing community spaces for meetings, studying, co-working space, video, and photography among others.
Many will argue that Konnect is positioning itself to be the go-to provider for low-income residential areas amidst plans by President William Ruto to have 100,000km of fibre optic cover the country so that every Kenyan gets access to free internet.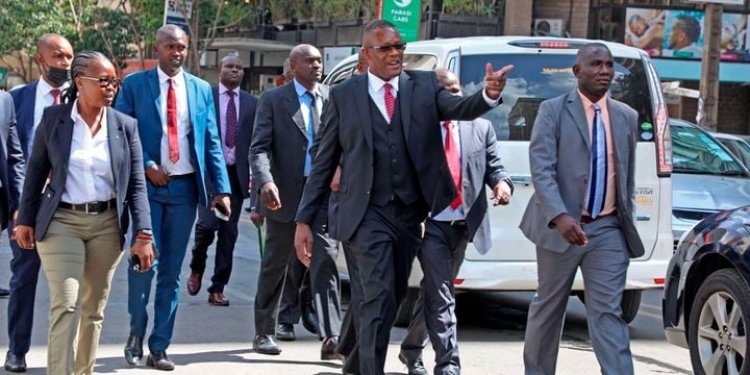 Information CS Eliud Owalo (centre) and other government officials arrive at City Market, Nairobi to launch a free internet Wi-Fi hotspot on November 9, 2022. /DAILY NATION
So far, the government has installed free Wi-Fi hotspots in Wakulima market, City Market and Nyeri town market as well as established a digital hub at the Kabete Youth Polytechnic and Migingo market in Bondo Subcounty.
This is part of its plans to have 25,000 public WiFi hotspots across the country to meet the rising demand for the internet as the world embraces the fast-evolving digital universe.