How USIU Graduate Overcame Failed First Business With Ksh353K Scholarship
Joy Stacy, a graduate of the United States International University - Africa (USIU) is one such entrepreneur who overcame the pitfalls of her first business in March 2021
The life of an entrepreneur is far from easy and in Kenya, the challenges go up a notch. An unhealthy business environment is coupled with hesitation to support, a lot of licenses to pay to the government and in some cases, the Kenya Revenue Authority (KRA) chasing you down, but only the resilient rise in the midst of storms.
Joy Stacy, a graduate of the United States International University - Africa (USIU) is one such entrepreneur who overcame the pitfalls of her first business in March 2021 to launch one of the fastest-growing beauty firms on the continent that partners with high-end beauty and fashion entrepreneurs in Nairobi to launch and relaunch their brands. She holds a Bachelor of Science in International Business Administration (IBA) with a concentration on entrepreneurship and is currently a Google-certified digital marketing specialist.
The former social media specialist launched The Album Cover challenge - an initiative to enhance the confidence in our skin, country, continent and heritage as Africans in May 2020 which went viral on Instagram and Twitter in Kenya. The result? Participants based in Kenya, Nigeria, Egypt, Australia and the UK, and recognition by the afro-pop band Sauti Sol whose recent album formed the foundation of one of the challenges. For more on the Album Cover Challenge click here.
Joy leveraged the skills gained during her undergraduate program to launch Meremeta Africa Beauty. The consultancy was launched soon after she had secured a Ksh352,650 (US$3,000) scholarship for 21st-century skills training on creative collaboration and project management, having been identified among the top 5% of talent in Africa.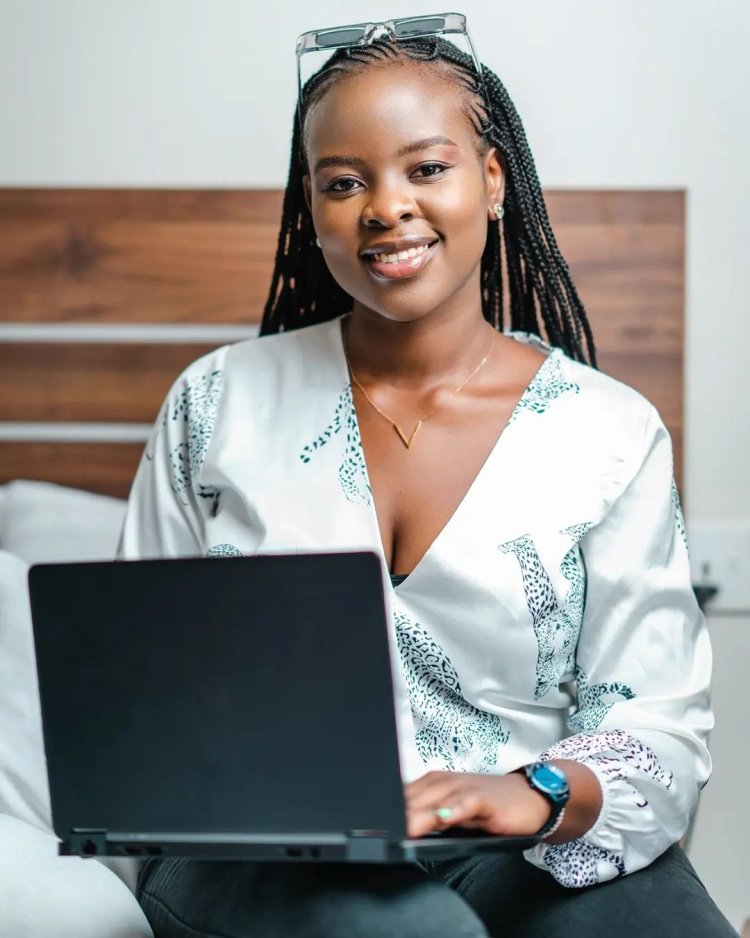 Joy Stacy working on her laptop. /INSTAGRAM
In an interview with Viral Tea, Joy revealed that she began the consultancy with the help of established African entrepreneurs at a business accelerator, and currently works with Uncover Skincare.
"We do this to support, encourage and showcase the true beauty of Africa and its people by increasing the confidence in homegrown African beauty and fashion brands. The concept behind it is to enhance the confidence in our skin, country, continent and heritage as Africans.
"'Meremeta' in Meremeta Africa Beauty stands for 'Glow' hence our mantra 'Meremeta nasi' in Swahili which means 'Glow with us'. At Meremeta we're on a mission to put other African beauty and fashion brands on the map, even as we put Africa on the map with the work we're doing," she told Viral Tea.
After introducing the consultancy in November 2021, Meremeta Africa immediately got its first paying customer then relaunched on Instagram six months down the line being the first beneficiary of its brand preparedness services.
When asked about who the brand typically tends to work with, Joy highlighted that Meremeta Africa Beauty is for any beauty or fashion entrepreneur in the world that has a special attachment to the African continent whether black, white or brown in colour. "It really doesn't matter!", she accentuated.
She, like many entrepreneurs, failed in her first business when she launched hand cream in March 2021 to support women battling dry hands due to pandemic regulations. Her failure stemmed from lacking insights on best practices and working with too many independent parties. Her drive and passion are now invested in ensuring high-end beauty and fashion entrepreneurs in Nairobi have a quality consulting service they can turn to for everything brand preparedness, digital marketing, and online launching as she's passionate about maintaining the spirit of her clients' businesses.
Meremeta Africa Beauty is not just any beauty or fashion consulting brand, it offers an array of services ranging from social media, SEO, design, and strategy to identity.
"We're more than just a consulting agency. We're a business support system committed to developing partnerships to help our clients do things right early on, focus on the aspects of their businesses they enjoy at all times and successfully launch and relaunch their brands online.
"Every client presents a set of unique problems and seeks a unique goal. We start each off with our brand readiness assessment which is a list of multiple-choice questions to deep dive into their history, dreams and current status. Meremeta Africa then offers them a free 30-minute consultation with high-level recommendations on key areas such as their business, product or brand before launching or relaunching their brands," she adds.
Meremeta implements strategy in recommending a journey of services clients may want to engage the firm in the best way that takes them from point A to B. The clients then pay them by journey milestones and have different support options to choose from.
According to their rate card obtained by Viral Tea, their services include consulting packages which are ideal if you want to pay for previously agreed upon projects on a monthly basis. Light-touch strategic guidance, a hint of implementation and full strategic guidance and implementation are support options you could choose from ranging from Ksh15,000 to Ksh40,000 per month.
Project-based packages are ideal if you want to pay for a one-off customizable time-bound project, usually between 3 to 6 months, to address the challenges your business is currently facing to skyrocket it to the next level. Perks include 5 young Kenyan influencer recommendations, a brand strategy and marketing strategy guidance among others.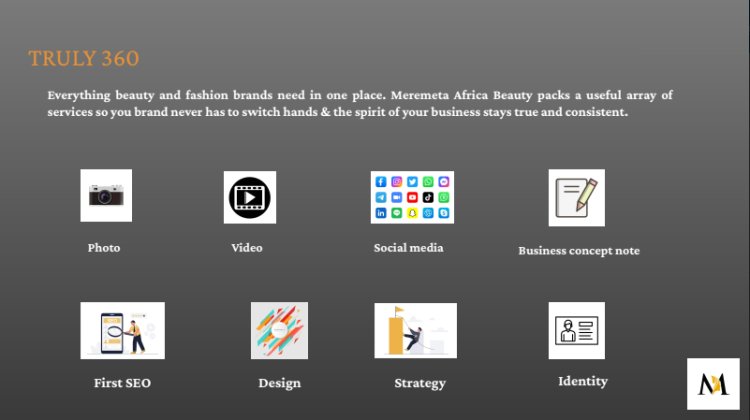 Screenshot of Meremeta Beauty's services. /COURTESY
Here they also have a package specially designed for beauty and fashion entrepreneurs launching for the first time. These range from around Ksh70,000 to Ksh125,000. Their prices are exclusive of marketing ad spend and 10 per cent ad commissions with payments being made in instalments.
Add-ons are boosters for struggling parts of your business ranging from Ksh4,500 to Ksh30,000. Meremeta Africa Beauty aims to become the global one-stop-shop for insights on best practices in the beauty and fashion industry.
"We partner with beauty and fashion entrepreneurs in Nairobi to launch their brands. So, jump on a few calls with us and let us do the hard work for you to successfully launch or relaunch your brand within just 3 to 6 months!" Joy promises.
Joy leads the amazing three-person team at Meremeta Africa Beauty consisting of herself as the Chief Executive Officer (CEO), Flora Mutesi as the Client Success Lead and Lisa Kute as the Media Planner. The team aims to work with the top 100 African beauty and fashion brands in East Africa by 2024 with the goal to expand to the rest of Africa in the following years.
"As for my future, I look forward to working as an industry expert with a diverse team and building the Amazon of beauty and fashion from Africa. In my free time, you can find me exploring and partaking in outdoor activities such as hiking, going to museums, travel, brunch and numerous fun group activities," reads her LinkedIn bio. Catch up with her recent activities here.
What is also notable about Joy is that she bagged her first billboard feature in Kenya courtesy of African Leadership Group and first entrepreneur feature on the Workspace Global website in May 2022.