KDF Save 20 Trucks & PSVs Stuck In Muddy Road [PHOTOS]
The KDF soldiers who were on patrol duties utilised their offroad armoured personnel and recovery vehicles to pull out the trucks
KDF officers deployed to Eastern DRC rescue 20 vehicles on December 19, 2022. /KENYA DEFENCE FORCES
Kenya Defence Forces (KDF)'s Quick Reaction Force (QRF) troops deployed in the Eastern Democratic Republic of Congo (DRC) helped stranded motorists at Ofaye along the Eringeti-Komanda road.
KDF stated on Monday, December 19 that more than 20 vehicles comprising cargo trailers and public service vehicles transporting people and essential goods had been forced to wait for days.
This was after the road was blocked by trucks that had been stuck on the road due to the ongoing heavy rains and the bad state of the road.
KDF officers deployed to Eastern DRC rescue 20 vehicles on December 19, 2022. /KENYA DEFENCE FORCES
The KDF soldiers who were on patrol duties utilised their offroad armoured personnel and recovery vehicles to pull out the trucks that were blocking the easy movement of motorists from both sides of the road.
"The road users, who are mostly businessmen and farmers, expressed their appreciation for the help offered by the Kenyan troops.
"They added that the move helped them avert losses that they would have incurred by staying on the road," KDF stated in part.
KDF officers deployed to Eastern DRC rescue 20 vehicles on December 19, 2022. /KENYA DEFENCE FORCES
The Eringeti-Komanda road is a key route used to transport goods and services between Beni and Ituri territories.
Aid to civilians is one of the mandates that Kenyan troops play in peace support operations in DRC. KDF had previously stated that it had completed its movement of troops, warfare equipment and the logistical component to the DRC.
According to the KDF, the movement of the troops, warfare equipment and logistical component of the Kenyan contingent operating under the East African Community Regional Force (EACRF) in DRC has been successful.
"The cross border liaisons enabled ease of movement, as the convoys moved to Goma-DRC by road through Uganda and Rwanda last week," said a statement on Wednesday, December 7.
"This liaison and ease of passage are most significant in the delivery of the EACRF mandate. It also adds to the EAC milestones in the participation by all member states to provide sustainable peace in the region through collective responsibility."
EACRF troops' presence in DRC continues to signal peace and stability in the troubled Eastern part of Congo. In the same spirit, the ongoing Nairobi process, the Armed Forces of the Democratic Republic of the Congo (FARDC) efforts, population support and humanitarian assistance are geared towards the provision of human security for peaceful coexistence.
The Kenyan troops joined others from Uganda, Rwanda, Burundi and Tanzania on the mission in Eastern DRC.
Meanwhile, former President Uhuru Kenyatta secured a win in Nairobi after the DRC rebel group M23 announced that it was ready to disengage and withdraw.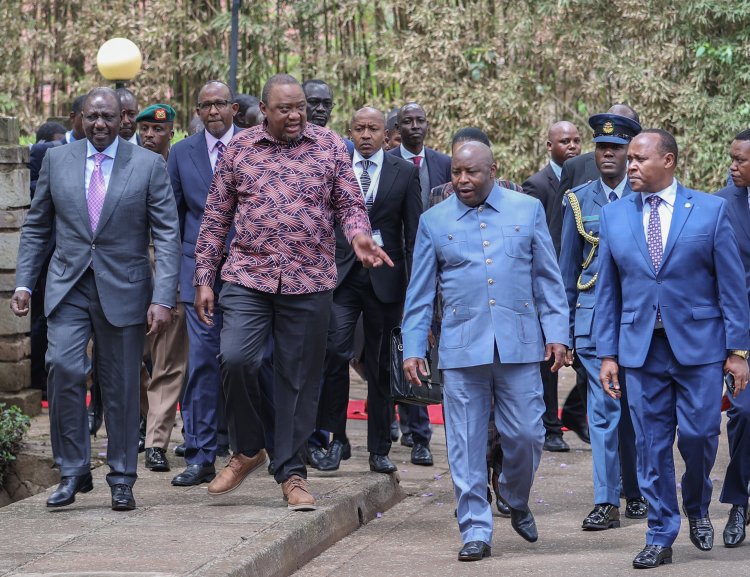 President William Ruto, former President Uhuru Kenyatta, and President Evariste Ndayishimiye. /TWITTER