Liz Aluvanze: Meet Fitness Guru Heading Top Aviation Body
KAAO is a national umbrella body tasked with promoting, fostering, enhancing, and protecting the interests of those engaged in the Aviation Industry and allied businesses.
Side by side image of Kenya Association of Air Operators (KAAO) CEO Liz Aluvanze. /VIRALTEAKE
Engineer Liz Aluvanze was on Monday, September 26 appointed by the Executive Committee of the Kenya Association of Air Operators (KAAO) as its new Chief Executive Officer (CEO).
KAAO is a national umbrella body tasked with promoting, fostering, enhancing, and protecting the interests of those engaged in the Aviation Industry and allied businesses.
Aluvanze took over from Colonel (Rtd) Eutychus Waithaka who proceeded into retirement after spending 25 years at the helm of the association.
KAAO CEO Liz Aluvanze writing an appreciation message to her predecessor, Col. Eutychus Waithaka. /KAAO
"The Executive Committee appreciates the leadership and expertise the association received from outgoing CEO Col. (Rtd) E. K. Waithaka, and we wish him the best in his future endeavours. Col (Rtd) has had an illustrious career and his experience and expertise will continue to be a great resource to the association including the management, staff and the air transport industry," KAAO chairman Mbuvi Ngunze said.
"During his time, the Association has consolidated its efforts in advocating on issues such as regulations, taxes on many of the industry purchases and services, infrastructure, levelling the playing field for different actors in the industry and aviation policy amongst other areas. KAAO has over this period managed to create industry cohesion and works closely with Kenya Civil Aviation Authority (KCAA) and Kenya Airports Authority (KAA), Government Ministries, as well as other related umbrella bodies that impact its members' interests such as Kenya Private Sector Alliance (KEPSA), Kenya Tourism Federation (KTF), Federation of Kenya Employers (FKE)."
Aluvanze now adds a major milestone to her vast experience as a versatile air transport professional with knowledge and skills in Air Transport Strategic Management, Air Transport Engineering, Regulatory Policy and Air Law.
According to her LinkedIn bio, she also boasts of Client Relationship Management and Contract Negotiations skills with a combined experience of over eight (8) years in the Air Transport industry where she has worked and consulted in various sectors including Air Transport, Commercial, Fleet Development, Engineering and Engineering Services, Technical and Flight Operations.
What many don't know is that Aluvanze is a fitness enthusiast with a penchant for living a healthy lifestyle. She proudly acknowledged that taking care of her body is her responsibility and an expression of self-care.
"Liz is an Aerospace Engineer by profession and runs her own aviation consulting company called 'Skylar Consult' which offers a variety of services from local to regional operators ranging from commercial, strategy, and operations set up among others.
"She is also a stylist and personal shopper and recently created an aviation-infused fashion blog called Liz Alu," explains a 2019 feature of her on Tizi Talks, a fitness blog run by Loise Machira.
Aluvanze explained that she had been working out consistently for six months, which had a significant improvement in terms of her health, skin, diet, regular body outlook and sleep pattern as well as her stress levels being low.
"Last year around June, she was unemployed, frustrated with how everything was going and felt like she was going through a quarter-life crisis which I am sure many of us can relate with. She decided to go into a gym to check it out and attempted to run on the treadmill for a few minutes which led to six months!
"It was the best thing she ever did for her body, mind and soul despite the ample times she couldn't walk because of muscle soreness," the blog added.
Aluvanze noted that being self-employed allowed her to have a flexible schedule where she goes to the gym in the morning and dedicates the rest of the day to work and meetings.
Nonetheless, if she still had an 8 am to 5 pm job, she noted that she would still find time to work out in the morning hours due to a refresh of energy compared to evenings usually crowded by many people in the gym (rush hour).
She has an Air Transport Master's degree from Cranfield University and a BEng in Aerospace Engineering from Manchester University.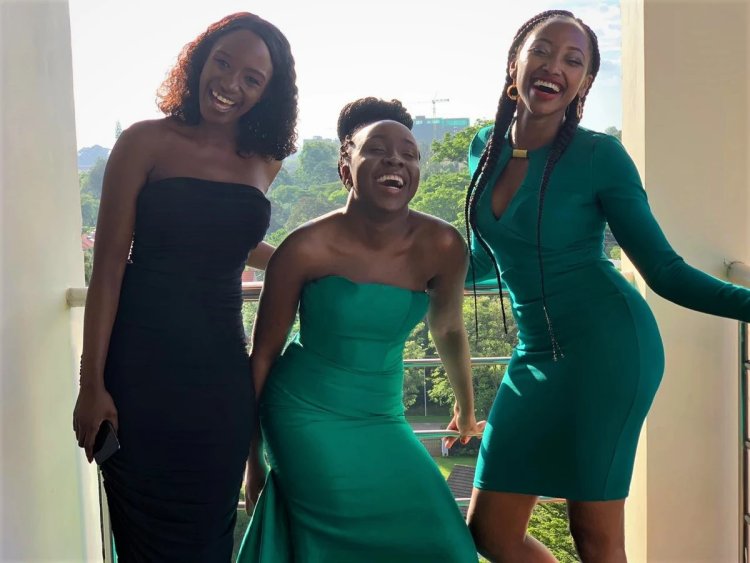 Liz Aluvanze with Jolie Ouko (Founder, Crevit Mulier) and Loise Machira (Founder, Tizi). /TIZI TALKS
Before her current appointment, she worked at the Kenya Civil Aviation Authority (KCAA) on a contract basis after her stint in fleet development at the national carrier Kenya Airways.
Aluvanze was an operations intern at Fastjet where she was based at London Gatwick Airport in the United Kingdom (UK).
Her new role sees her rub shoulders with Ngunze, who has headed six different companies ranging from Safarilink Aviation to Kenya Airways in 2011 as the Chief Operating Officer before being promoted the Managing Director and CEO in 2014.
Watch an interview of Aluvanze with Tizi Talks: