Ruto Is Like A Dog Which Barks But No Bite- Uhuru
Uhuru said that Ruto was a coward who could not face him head-on, hence turning to insults as a way of compensating for his woes.
President Uhuru Kenyatta speaking at Gusii Stadium on August 3, 2022. /PSCU
President Uhuru Kenyatta has gone on the verbal offensive against Deputy President William Ruto again, this time stating that his junior was terrified of facing him.
Speaking at the Gusii stadium on Wednesday, August 3, Uhuru said that Ruto was a coward who could not face him head-on, hence turning to insults as a way of compensating for his woes.
In particular, the Head of State likened the United Democratic Alliance (UDA) presidential candidate to a toothless dog, which barks on many occasions but does not bite.
President Uhuru Kenyatta with Deputy President William Ruto. /NAIROBI NEWS
"When you hear someone insulting anyone, or pointing a finger at anyone, it is simply because they fear them. They cannot approach the head-on and resort to hurling insults.
"They are akin to a dog which keeps on barking but cannot bite. Once you scare it, the dog folds its tails in between its legs and runs away," he fired, however maintaining that he was not intending to harm DP Ruto, nor his allies as they claimed.
He then explained his decision to refuse to back Ruto to succeed him as President ahead of the August 9 general elections, terming him as an individual who had no capability of leading the country.
Uhuru described Ruto in a narrative whereby two individuals start the journey together but betrayal from one party leads to the duo's separation.
"You can start the journey with someone, you mean well and you're determined to finish it together. However, if you're approaching your destination, you look back and realise that the back seat has been thrown out and another one is holding on to it.
"There's the passenger who lost his goods, you go on. The tyres run out of pressure, you tell him to change it but he runs away with it to sell to someone else," he roasted.
He took fault with the deputy's sentiments in the presidential debate when he said he had changed his mind on Value Added Tax (VAT) on fuel because only fools do not change their minds.
Uhuru then mocked his deputy by stating that he had changed his mind about endorsing him.
"It's true, only a fool cannot change his mind. Therefore I will also not change my mind because I'm not stupid," he added, while also dismissing Ruto's claim that his handshake with Azimio flagbearer Raila Odinga was the cause of the fallout.
President Kenyatta similarly defended his decision to delegate some duties under the Office of the Presidency to Interior Cabinet Secretary Fred Matiang'i, who he appointed Chief Minister by way of an Executive Order.
He winded up his Kisii county tour with a political rally at the Gusii stadium, where he rallied the Nyanza region to back Raila's bid.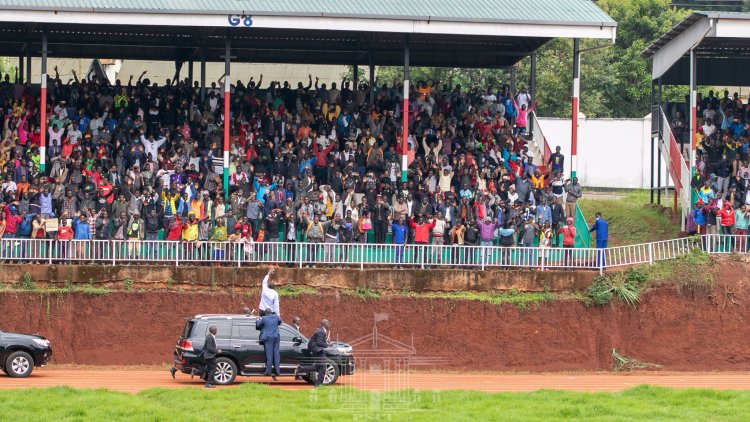 President Uhuru Kenyatta waving to a crowd at Gusii Stadium on August 3, 2022. /PSCU