Screenshot Of Ben Pol's Unanswered Texts To Anerlisa Goes Viral [PHOTO]
Ben Pol sensationally claimed that he did not enjoy being together with Anerlisa...
Collage of Ben Pol and Anerlisa Muigai. /INSTAGRAM.IAMBENPOL.ANERLISA
The row between Tanzanian singer Benard Michael Paul Mnyang'anga also known as Ben Pol and Keroche Breweries heiress and the Chief Executive Officer of Nero Water Anerlisa Muigai intensified after the latter shared a screenshot of the former's messages to her.
The screenshot seen by Viral Tea captured details of what seemed to be their last conversation over the Christmas period.
The messages had allegedly depicted the Moyo Mashine hitmaker expressing his heartfelt feelings towards Anerlisa during the festive season, admitting the changes that happened in his life after her exit.
Screenshot of Ben Pol's texts to Anerlisa Muigai. /FILE
While sharing a video of him decorating a Christmas tree, Ben Pol texted "I tried to decorate our Christmas tree, was thinking of you."
He followed it up with another, stating "Christmases are not the same" before yet another one that alluded to their marriage.
With the texts sent minutes apart from each other, Ben Pol confessed that he never married her over money and that he was at his lowest when the couple were together.
"And by the way (for my own peace) I want to let you know that I was never with you because of money, in fact during our relationship, it was the time that I was making the least money in my whole 12+ years career, but I was okay and I never complained about it.
"I loved the space and the idea that we were going to grow together," read more messages, to which Anerlisa never responded to.
During an interview with Millard Ayo, Ben Pol sensationally claimed that he did not enjoy being together with Anerlisa, despite their endless couple goal photos on social media during their relationship and into their marriage.
"We started dating in 2018. Apart from our beautiful photos on social media, I never enjoyed my marriage.
"I never experienced what other people enjoy in marriage. I was seeming there to pose for the snapshots," he stated.
Ben Pol expressed that their marriage was mostly about documenting their moves on social media to paint a picture of a happy union, yet it was not the case in reality.
"For us, our marriage was pure aesthetics. It was all about taking pictures and writing colourful captions and nothing much. I don't mean to demean anyone but in my opinion, I feel like I got into a situation to complete someone's idea of being perfect," he went on.
Ben Pol also revealed that their divorce was finalized after almost two years after filing for an annulment.
The singer filed for divorce in April 2021 at the Dar es Salaam court without explaining why he was doing so, 11 months after the couple tied the knot in a lavish wedding ceremony. They had dated for three years prior to the ceremony in May 2020.
A friendship started in 2018 before it blossomed in April 2019 when the two were on vacation in Mombasa.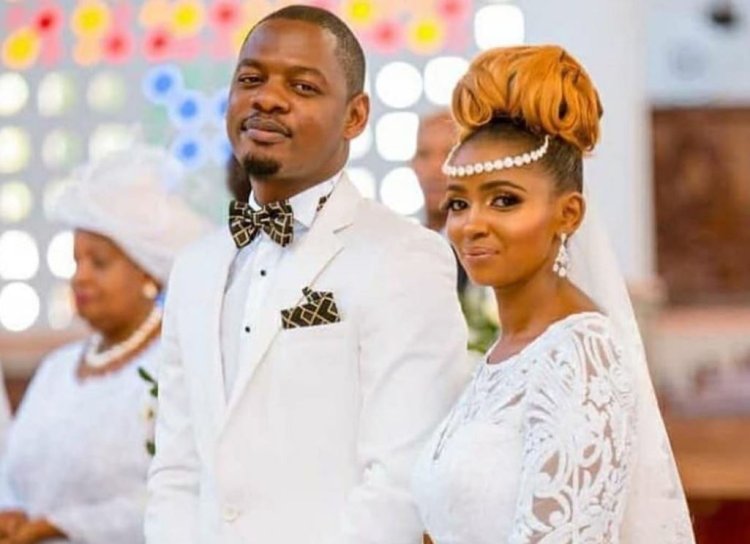 Anerlisa Muigai and Ben Pol during their wedding in May 2020. /FILE