Willy Paul Counters Own Statement Against Collaborating With Jovial [VIDEO]
Pozze wrote and arranged the song under his record label Saldido International Records. Teddy B was in charge of making the beats as well as mixing and mastering.
Nairobi-based musician and songwriter, Wilson Abubakar Radido, alias Willy Paul has released a song with his counterpart Juliet Ayub Miriam, popularly known as Jovial, despite his initial expression of not working with her on the same.
The song is dubbed Lalala and was released on YouTube on Friday, September 30 at midday, two hours from their initial release at 10 am as they had announced on their respective social media platforms.
Pozze wrote and arranged the song under his record label Saldido International Records. Teddy B was in charge of making the beats as well as mixing and mastering.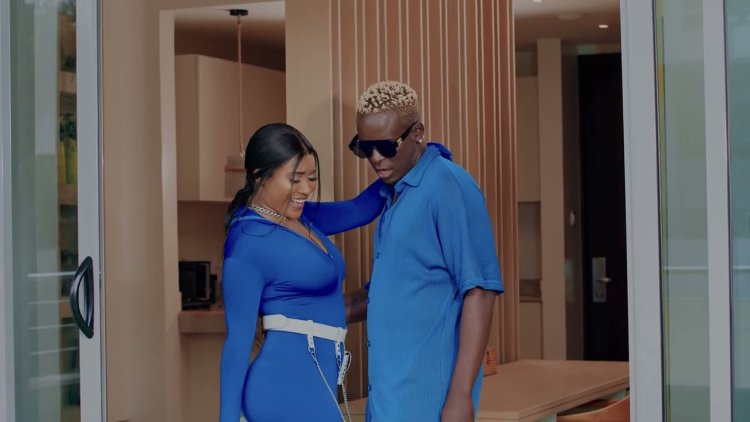 Willy Paul and Jovial dancing with each other in their latest music video. /INSTAGRAM
The majority of the song's lyrics described them warming up to each other, which comes after the two heightened dating rumours via a 55-second video shared on Willy Paul's Instagram account on Wednesday, September 28.
It showed them emerging from an elevator seemingly holding each other cosily before frolicking to Pozze's new 14-seater matatu parked waiting for them.
The man behind the camera was heard cheering them on, declaring them as the 'newest couple in town' as they stopped beside the matatu for Jovial to make a few comments.
She cleared the air on Pozze picking her up from the airport with the matatu, given that a number of private cars are usually spotted at the terminals with the exception of matatus ferrying passengers from the Nairobi Central Business District (CBD).
"Listen, we are different, if it is getting an Uber, I can afford one and so can he. He drives a good car," she said to those who had asked questions about it.
Jovial took to Instagram on her end to share photos captioning "Somebody's girl" and "A gal Toto wa nanii," an hour apart from Pozze's video captioned "New lovers in town", which had intensified rumours that the two might be an item.
The songstress three days prior decided to warm up to her counterpart after he shot his shot, posting him on her Instagram and accompanying it with a note that read: "I just wanna fall in love."
Pozze previously disclosed that he would not work with the Mi Amor hitmaker for a song, praising her as a special person, among the many ways he confessed to having a crush on her.
The chase took a new turn on the same day when Willy Pozze put up a post begging her to be his girlfriend and urging her to forget his past which has been riddled with controversy.
"Jovial at least have some humanity. I'm not denying what people are saying about me, I don't know why...in life, it is a must for everyone to settle down so I'm begging you to let me spend the rest of my life with you.
"Nobody is perfect so we shouldn't judge someone based on his or her past. Man is to error, but If you give me this chance then for sure I'll make you the happiest woman on the planet earth," he admitted.
Willy Paul had beforehand dropped a comment that read "Hey Jovial, hope you're well. I can't stop thinking about you honestly" which led to Jovial commending him for his approach compared to the strong comment he penned to her which read "Wewe nikupata nakukula na ugali ya ushago aki mapenzi wewe (When I catch you, I'll eat you alongside a plate of traditional ugali, love is wicked)."
Jovial was not too pleased with the comment and strongly dismissed him by advising him to look for his type to salivate after.
Jovial and Willy Paul. /INSTAGRAM.WILLY PAUL MSAFI