Youth Behind Design Of Ruto's Ksh100M Campaign Truck Joins Azimio
Waititu, who was one of the UDA Mt Kenya youth coordinators, revealed that he was among the youths under Pimp my Ride...
A collage of the design of the UDA 6x6 truck used by Deputy President William Ruto during his campaigns. /TWITTER
Nicholas Waititu, one of the youths who was involved in the welding, design and branding of a 2022 Toyota Tundra 6x6 wheel truck branded with United Democratic Alliance (UDA) party colours, has joined the Azimio la Umoja coalition.
He took to his Facebook page on Saturday, August 6 to confirm his decampment to the coalition under presidential candidate, Raila Odinga, the same day it held its final mega rally at the Kasarani stadium in Nairobi.
With two days to go to the Tuesday, August 9, 2022, general elections, Waititu affirmed that he will cast his vote for Raila as the man to succeed President Uhuru Kenyatta after voting day.
Nicholas Waititu posing behind the Ksh100 million 6x6 campaign truck donated to the UDA party. /FACEBOOK
"On Tuesday, I will wake up at 5 am to go and vote for Raila Odinga as the next President of the Republic of Kenya.
"Even the man we have been conditioned to hate most can be president. This is the Kenya that I believe in whereby each and everyone has an equal opportunity," he said.
Explaining his decision to decamp from Deputy President William Ruto's party, Waititu praised Raila's dedication to making Kenya a better place through the sacrifices that he made for the rights of Kenyans.
"Raila Odinga the reformist has sacrificed a lot for this country and championed for our rights as a nation, he even gave his life so that me and you live a better and more decent life, Raila brought freedom of speech.
"He brought a new constitution and he also championed for devolved government system. May God bless you the 5th Hon. Raila Odinga, Our ultimate hero," he concluded.
Speaking to Viral Tea, Waititu, who was one of the UDA Mt Kenya youth coordinators, revealed that he was among the youths under Pimp my Ride which brought the offroad truck from Dubai, United Arab Emirates (UAE) into the country where they did the final touches including assembly and branding, which he was in charge of.
The result was a vehicle whose photos surfaced on social media and caused a frenzy throughout the country on Friday, July 8, given that it was shared by a Twitter user named LaqueenJ.
"I was among the youths under Pimp My Ride who imported the truck from Dubai.
"We did the assembling and branding here in Kenya, among other final touches. I was fully in charge of branding," he told Viral Tea.
Pimp my Ride's managing director, Patrick Nderitu, had initially revealed that works on preparing and modifying the car took one year as they had to furnish the exterior to be of high quality.
"The whole preparation for the vehicle took one year. That was when it was completed and everyone started talking about it. We had to plan it in advance so that the end result can be of high quality," he told Standard Digital.
He added that he donated the vehicle to DP Ruto's campaign team because he felt that it would boost the deputy president's bid to succeed his boss, Uhuru, after the elections.
The vehicle, which he affirmed cost an average of Ksh80 million and Ksh100 million, comes with unique features such as automated doors hinged at the rear than at the front. The front doors open in a V-shape scissor format, something only found in a number of supercars- sports cars that can travel at incredible speeds.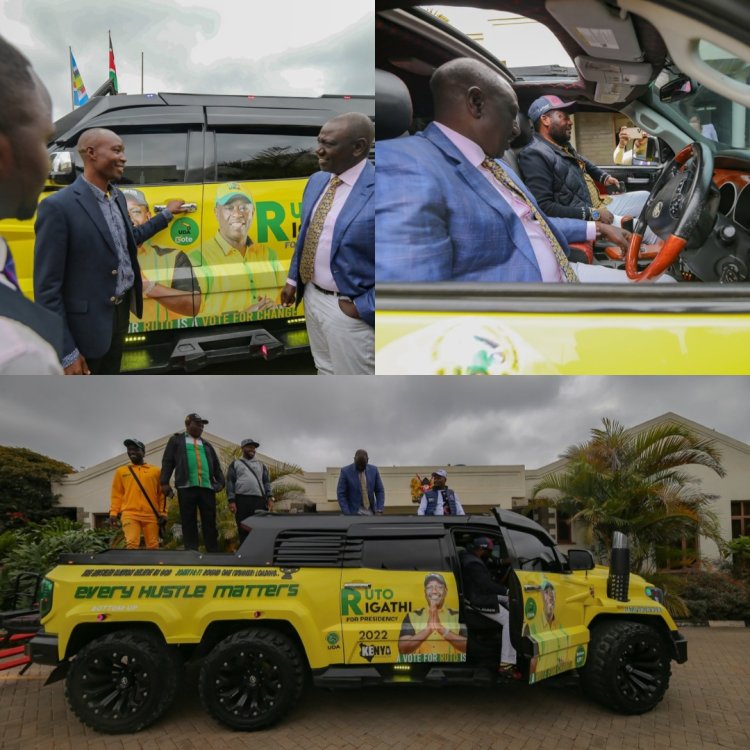 DP William Ruto with the 2022 Toyota Tundra 6x6 truck with UDA livery and colours. /DPPS
The truck also comes with two sunroofs, a fridge, a VIP protection area as well charging ports. Nderitu noted that the vehicle can top a speed of 200 kilometres per hour.
The DP officially received the truck days later at his Karen residence and has been using it for the business end of his nationwide campaigns, which have since come to an end ahead of the elections.