How Teleprompter Ruto Used For UN General Assembly Speech Works
Teleprompters have traditionally been used in two main scenarios...
President William Ruto giving his inaugural speech at the UN General Assembly on September 21, 2022. /UN
President William Ruto's speech at the 77th United Nations (UN) General Assembly was the highlight of the session held in New York City, USA.
Kenyans across the country had lauded him for the speech delivered on Wednesday evening, September 21 which displayed his mastery of the issues presented as well as his eloquence in its delivery.
However, some took a bit of fault with the 30-minute flawless presentation as others were insinuating that he had memorised it before the speech itself.
This is after Moldova's Maia Sondu, Namibia's Hage Geingob, Slovenia Borut Pahor - read from sheets of paper or tablets before Ruto stepped forward and gave his.
Podium at the United Nations (UN) General Assembly consisting of two-sided teleprompter on September 21, 2022. /TWITTER
Viral Tea can confirm that President Ruto used a unique teleprompter setup on the UNGA podium which featured two beam splitters; one on each side, which enabled him to change directions as he was giving his speech.
What is a Teleprompter?
A teleprompter is also commonly referred to as a prompter or an autocue and it is a device that allows a presenter to read a script whilst maintaining direct eye contact with the audience.
Because the speaker does not need to look down to consult written notes, he/she appears to have memorized the speech or to be speaking spontaneously.
Reading from a teleprompter is however an exercise that requires practice so that one does not look like his or her speech is scripted.
Where teleprompters are used
Teleprompters have traditionally been used in two main scenarios – by television presenters who want to be able to look straight in to the camera whilst reading the script, or by presidents, politicians and public speakers who want to be able to maintain natural eye contact with their audience rather than looking down at their notes.
In more recent times, the use of teleprompters has widened to include any scripted video production, video bloggers, PowerPoint presentations, as well as singers performing on stage as a way to help remember their lines.
Usually, a teleprompter setup consists of a projector and a beam splitter. The projector can be the screen of an iPad or tablet where the Word document has been saved while a beam splitter is a special glass that reflects the image from the device.
Since the beam splitter is placed right before the camera, the individual delivering the speech can read the words, which are presented in a PowerPoint slide show, while looking directly at the audience.
Ruto's Impressive Speech
Whether he used the teleprompter or memorised his speech, President Ruto was praised by Kenyans for having extensive knowledge of the issues highlighted at the UNGA assembly.
"I refuse to be told and believe that President Ruto was reading from a teleprompter. Clearly there was none.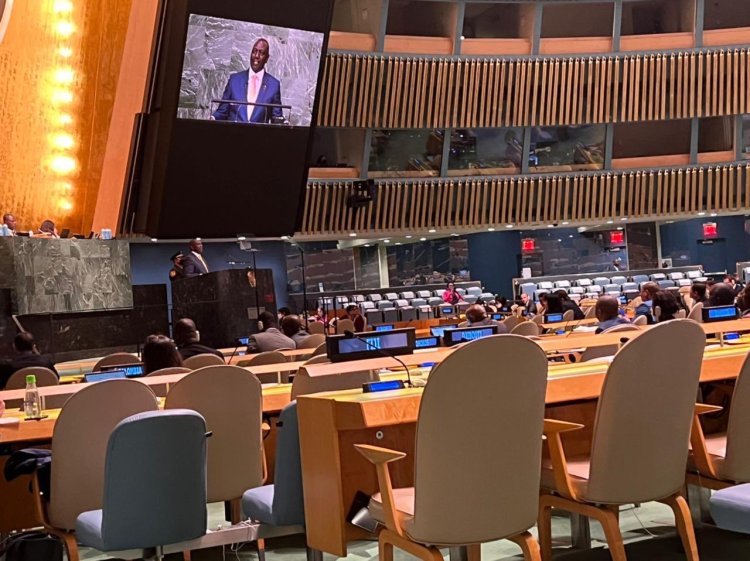 Setting at the UN General Assembly on September 21, 2022. /TWITTER
"Let's accept that President William Ruto was well prepared to deliver his maiden address at the 77th session of the UN General Assembly," Alinur Mohamed tweeted.
"With or without Teleprompter,that speech by President Ruto will send a message to other world leaders, Kenyans made a choice for their country. No sleeping in-between the speech. No regrets!" Kipleting Kurgat weighed in.