Irene Masit Denies Reports Of Quitting IEBC
The reports surfaced online on Thursday, December 8 insinuating that Masit had quit her position
IEBC Commissioner Irene Masit. /CITIZEN DIGITAL
Irene Masit, the only surviving member of the infamous four breakaway commissioners of the Independent Electoral and Boundaries Commission (IEBC), has denied reports suggesting that she has resigned from her role.
The reports surfaced online on Thursday, December 8 insinuating that Masit had quit her position pending an investigation by a tribunal formed by President William Ruto.
Her lawyer Donald Kipkorir revealed to The Standard that "my client will not resign from her position. The viral reports on her resignation are false".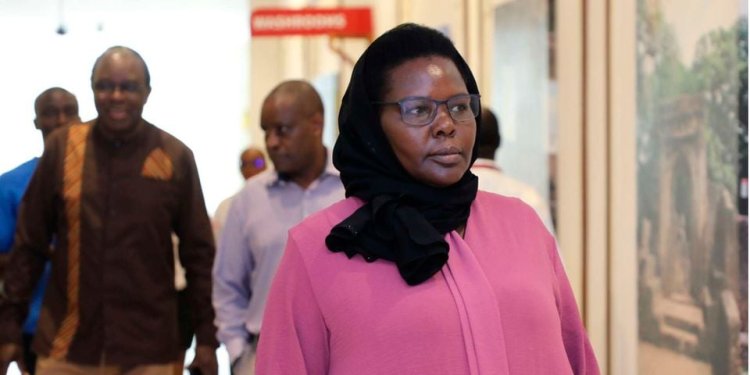 IEBC Commissioner Irene Masit. /DAILY NATION
She is the only commissioner poised to face the tribunal set up to investigate their conduct during the August 9 general elections whereby they are accused of almost subverting the will of the people.
They opposed IEBC chairperson Wafula Chebukati's declaration of William Ruto as the winner of the hotly-contested August 9, 2022, presidential election.
Masit had filed a petition before a Nairobi court seeking to stop the Justice Aggrey Muchelule-led tribunal from investigating her. The court will issue its directive on the petition later on Thursday.
She holds a Master's degree in Strategic Human Resource Management from the University of Manchester in the UK, Bachelor of Law degree from the University of Nairobi, Bachelor of Arts degree in social work from the University of Nairobi, and she is a Post Graduate Dip from Kenya School of Law.
She has over 25 years of work experience, and knowledge in Government and Non-Governmental Organizations (NGOs), and was the National Government Constituency Development Fund (NG-CDF) board member before joining the electoral body.
Masit has knowledge and experience in Finance, Governance, Management and Public Administration, and she chairs the Legal, Compliance and Political Party Liaison Committee and the Leadership and Integrity Committee.
Her colleague, Francis Wanderi, had stepped down from his role earlier in the day over what he termed as a predetermined fate in the process of evaluating whether he, alongside Juliana Cherera, Justus Nyang'aya and Masit were suitable for office as conducted by the tribunal.
Cherera had stated in her letter to President Ruto on Monday, December 5 that she was stepping down from the commission, explaining how she carried out her duties in line with the mandate of her role at the commission.
"It is with immense woe that today I tender my resignation as commissioner and vice chairperson of the Independent Electoral and Boundaries Commission (IEBC). Since joining the commission, I have dispensed my duties diligently, and meticulously and put a spirited effort into helping the commission deal with corporate governance issues under very difficult circumstances.
"As vice chairperson, I always advocated for fair treatment and equal opportunity for all staff. However, my cumulative actions done in good faith are unfortunately misjudged and misinterpreted," she explained.
The commissioners were suspended by President Ruto following recommendations from the National Assembly Justice and Legal Affairs Committee (JLAC).
The tribunal gazetted in the same circumstances to investigate them will be chaired by Justice Aggrey Mucheule. Carolyne Kamende Daudi, Linda Gakii Kiome, Mathew Njaramba Nyabena, and retired Colonel Saeed Khamis Saced were also appointed to the tribunal.
If Masit was to resign eventually, the commissioners would plunge the electoral commission into a constitutional crisis in regard to quorum.
With Chebukati and three other commissioners on the verge of stepping down in January 2023, the commission would be left without a commissioner to run its operations.
Police outside Anniversary Towers, IEBC headquarters in 2016. /THE STAR