Little-Known Dream Life Of Prime CS Musalia Mudavadi's Daughter
She was little known to the public until her address at the Amani National Congress (ANC) on Sunday, January 23, 2022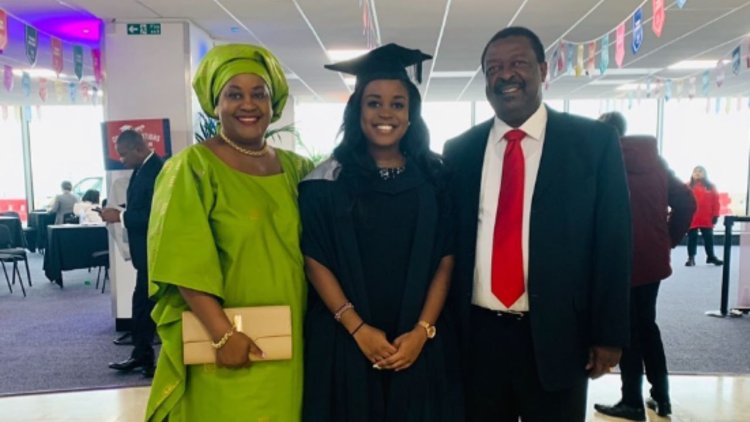 Musalia Mudavadi (right) poses for a photo with his daughter, Maryanne Mudavadi (center) during a graduation ceremony at the University of Sussex. /INSTAGRAM.MARYANNE MUDAVADI
Prime Cabinet Secretary (CS) Musalia Mudavadi's daughter, Maryanne Mudavadi, has a whole fun-filled lifestyle that most Kenyans know nothing of.
She was little known to the public until her address at the Amani National Congress (ANC) on Sunday, January 23, 2022, in its highly acclaimed event dubbed "Mudavadi Earthquake" where her powerful introduction of her father set the country on fire.
"Good afternoon ladies, gentlemen, excellencies, distinguished guests, all protocols observed. I hope you all are having a lovely Sunday," began Mudavadi's last-born daughter, amidst a nervous chuckle.
Mudavadi's eloquent and beautiful daughter Maryanne got the crowd elated with her speech at the Bomas of Kenya on January 23, 2022. /FACEBOOK
Maryanne wasted no time endorsing her father who was then touted as the next man to succeed former President Uhuru Kenyatta in 2022 before he dropped his ambitions to throw his weight behind President William Ruto.
"Good morning dad, the next President of Kenya, my name is Maryanne Atsianzale Mudavadi and I'm the daughter of Wycliffe Musalia Mudavadi," she introduced herself to the delight of the crowd.
Maryanne opened up about her father's political career which began in 1989 during the late former President Daniel Arap Moi that included his time as Kenya's seventh vice president. She also touched on his tenure during the reign of former President Mwai Kibaki, where he served as the deputy prime minister.
"We can see that he is clearly strong, tried, experienced; a very prominent figure in Kenyan politics. My dad is a champion for change in all Kenyans, regardless of their age, their gender, their ethnicity and their class," she added to the applause of the crowd.
"He's an inspiration to both old and young leaders and a role model to many. Considering all the sacrifices my dad has made for this country, due to his extremely selfless nature, kind heart and integrity, I stand here very proud to say that this is my dad," she said before gleefully introducing her father to address the audience with louder subsequent cheers.
Prior to the earthquake event, scanty details were known about her and has managed to keep such a low profile that her official Instagram account is private and only followed by some of her close friends.
Viral Tea managed to gain access to her private account and found plenty of photos ranging from her graduation to her lifestyle abroad and her relationships, with her last post showing her with her boyfriend.
Maryanne also has a glittering education and work experience. She graduated from the University of Sussex in Brighton, England with a Bachelor of Science in Psychology in 2018 before acquiring a Masters degree in Human Resource Management a year later from the same university.
She has a license in Entrepreneurship in Emerging Economies from the Harvard Business School and another in Leadership and Organisational Behaviour from the same institution.
She worked as a volunteer in the Mudavadi Memorial Foundation Trust (MMFT) for four months where she helped with office tasks including taking messages, scanning documents and answering phone inquiries.
"Through MMFTF breast cancer advocacy program I guided beneficiaries of the program to health facilities for their continued support. At the community level, I provided advocacy material relating to screening and thereafter," reads her LinkedIn profile.
She also volunteered at the National Assembly Lady Spouses Association, Kenya (NALSA-K), which sponsors a primary school in Olkalau for children affected by displacement due to various factors.
Maryanne Mudavadi with President William Ruto at his Karen residence. /INSTAGRAM.MARYANNE MUDAVADI
Maryanne worked as an intern for two companies from May 2014 to January 2022. She now serves as a recruiter at a local bank.
Aside from Maryanne, Mudavadi has two other sons: Moses and Michael. Moses was presumed to harbour political ambitions and was often accompanying his father to rallies.
Michael, the second born, is an avid video gamer and works for a leading marketing agency.