Ruto Tells Presidents About Kenya's Struggling Economy In UN Assembly
Ruto said that Kenya, being among the developing nations, risked sliding into an economic crisis caused by the pandemic and other disruptions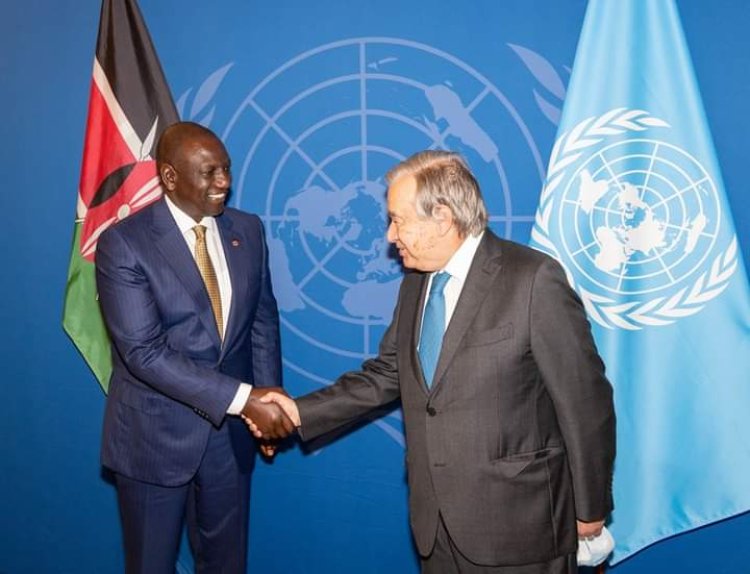 President William Ruto with UN Secretary General, Antonio Guterres. /WILLIAM RUTO
President William Ruto has called upon the World Bank as well as the International Monetary Fund (IMF) to extend debt relief measures especially following the COVID-19 pandemic.
He gave a picture of Kenya's struggling economy in front of other world leaders in his speech during the 77th United Nations (UN) General Assembly in New York, USA on Wednesday, September 21.
Ruto said that Kenya, being among the developing nations, risked sliding into an economic crisis caused by the pandemic and other disruptions such as the Russia-Ukraine conflict, climate change and global inflation.
He called upon global institutions to expedite the release of the necessary financial instruments to secure better fiscal space for the developing countries.
President William Ruto speaking at the UN General Assembly on September 21, 2022. /TWITTER
"Developing countries, being heavily burdened by external debt servicing, run the risk of losing development gains due to the shocks inflicted by the pandemic and associated disruptions. I call upon global financial institutions and the international community to take urgent measures and release all existing financial instruments to provide much-needed additional liquidity and secure better fiscal space for developing countries like Kenya, to enhance social investment, support climate change adaptation and mitigation, address security needs and resolve development financing challenges.
"On behalf of Kenya, therefore, I join other leaders in calling upon the World Bank, the International Monetary Fund and other multilateral lenders to extend pandemic-related debt relief to the worst hit countries, especially those affected by the devastating combination of conflict, climate change and COVID-19," the Head of State appealed.
He also urged the G20 nations to extend and expand the scope of the common framework to suspend or reschedule debt repayments by middle-income countries during the pandemic recovery period.
In terms of diplomatic relations, Ruto said that Kenya was maintaining its efforts to create peace in several situations within and outside the region, despite having challenges along the way.
"Kenya has sustained our investment in diplomatic efforts to find lasting peace in multiple situations within and beyond the region. Although some processes have yielded undeniable successes, challenges remain.
"I therefore strongly reiterate our call for partnership towards confidence-building measures and urge more concerted efforts towards sustainable peace and stability," he added.
On the bottom-up economic agenda, he called upon world leaders to embrace it, saying it can help achieve global economic prosperity.
"Building Back Better is the universal rallying call to incorporate lessons learnt into doing more, in a better way to recover from the shock. I suggest that we have a golden opportunity to faithfully adhere to this motto by augmenting it, in word and in deed, with an additional "B": Building Back Better, from the Bottom.
"Building back better from the bottom upwards is, essentially, about including the marginalized working majority in the economic mainstream. The bottom billion relentlessly wage their daily battle for survival in a a crowded arena characterized by scarcity of opportunity and generally precarious existence," he said, terming the ingenuity, optimism, resilience and energy in this ever bustling bottom as 'hustling'.
Ruto urged the presidents to bolster the resilience of the nations; to mainstream the millions through deliberate strategies and efforts for economic inclusion by "Building Back Better, from the Bottom-Up".
President William Ruto during a U.S. - Kenya Executive Business Roundtable, New York on September 20, 2022. /FACEBOOK