Sauti Sol Addresses 37-Minute Performance At Sol Fest Concert
The concert, they added, also sought to focus on international guest performances...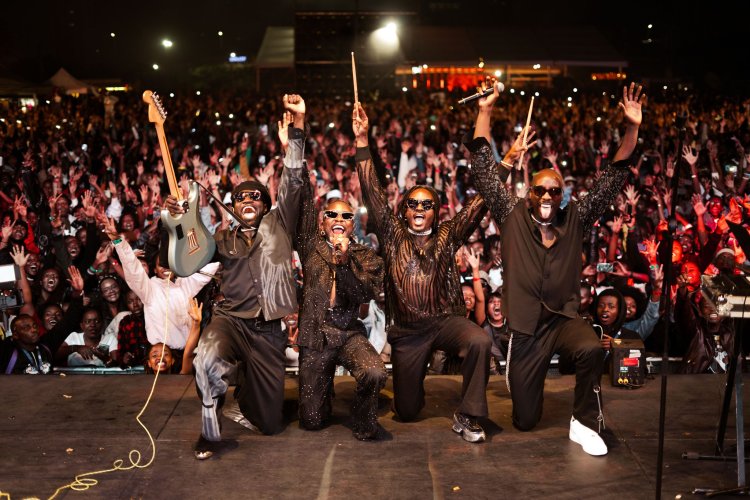 Sauti Sol at the Sol Fest concert on December 17, 2022. /TWITTER.SAUTI SOL
Popular boy band Sauti Sol on Monday, December 19 explained why they left thousands of their fans disappointed at their highly-anticipated Sol Fest concert held at the Kenyatta International Convention Centre (KICC) in Nairobi on Saturday, December 17.
A section of Kenyans had taken to Twitter to express displeasure with how the concert went down, with some stating that the band took the stage at 3.00 am for a performance lasting 37 minutes.
In their statement, while thanking all stakeholders as well as the sponsors of the concert for supporting them, the band explained that the purpose of the now-annual showpiece was to provide a platform for a variety of Kenyan musicians, even those not attached to their Sol Generation music label.
Popular boy band, Sauti Sol. /INSTAGRAM
The concert, they added, also sought to focus on international guest performances, a matter they admitted might have sparked a few delays in keeping the show running as per their set schedule.
"Sol Fest was conceptualised as a showcase for musicians and businesses within Sol Generation's core values - Discipline, Order, Passion and Excellence (D.O.P.E.), and is intended to serve as a platform not just for Sauti Sol and Sol Generation artists, but for a variety of talented African musicians. Our intention was to put on a spectacular event, ensuring each artist and group received enough time to deliver their very best performances to all fans.
"We also put more focus on the local talent who were performing, and our international guests. We acknowledge that this may have led to some unfortunate delays in keeping the show running in a timely fashion and would like to reassure all our fans and supporters that we will plan better for this in the future," Sauti Sol stated.
The concert also saw Tanzanian celebrated musician Harmonize perform, and is set to return to Kenya to stage a performance in less than a week's time.
Norway-based group Matata gave the fans a live performance of their collaboration 'Oversized T-shirt' from their album 'Super Morio'. Accompanied by great dances, the group also thrilled with other hits such 'Pombe na Kizungu Mingi'.
Others who took the stage at the event include rappers Juliani & Octopizzo, African Pop Star Nadia Mukami, Fena Gitu, Sol Generation's Nviiri The Story Teller & Ben Soul as well South African Amapiano star Costa Titch.
"In the spirit of festivals around the world, we were determined to curate a buffet of local and international experiences from food, fashion, dance, and music, and in the future, our intentions are to only make the experiences more memorable," the band further noted.
Through the organisers, Sauti Sol extended their heartfelt thanks to everyone who came out in large numbers, endured the long queues, and braved the long night to show them love and support, noting that this would help them build bigger and better platforms for African talent.
Multimedia journalist Marvin Gakunyi shared his experience of the concert in a Twitter thread and many Kenyans followed suit in coming out and criticising the conduct of the boy band during the concert, referring to the previous Sol Fest concert whereby they also delayed in performing in front of their local fans.
In an attempt to diffuse the situation, one of its band members Savara, born Delvin Mudigi, complained that Sauti Sol was turned into a punching bag in an early morning tweet on Monday, December 19, but that only worsened the situation. A section of fans had complained that they felt cheated given that they had begun streaming to the venue as early as 4 pm.
The concert came two days to the day (December 19) that the band had cancelled its much-awaited 'Sol Saturday' concert in the eleventh hour in 2020, leaving many fans across the country disappointed.
Fans at the Sol Fest concert on December 17, 2022. /TWITTER.SAUTI SOL