US Explains Kisumu Security Alert After Controversy
The embassy explained that the advisory was just a routine security alert.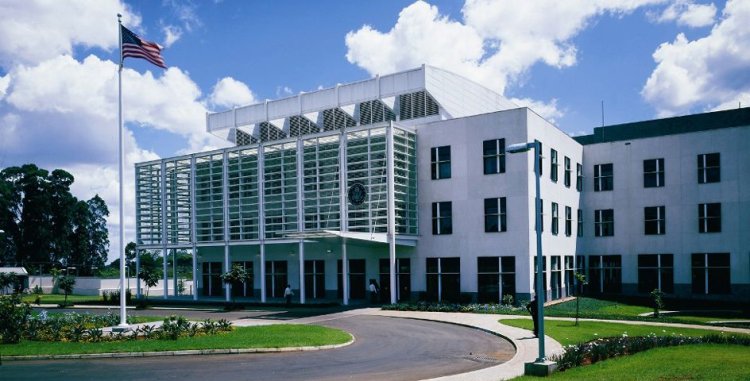 US Embassy in Kenya. /FILE
The United States (US) Embassy in Nairobi has clarified its recent travel advisory to its citizens and personnel intending to travel to the lakeside city of Kisumu, ahead of the August 9 general elections.
In a statement dated Wednesday, August 3, the embassy explained that the advisory was just a routine security alert.
It added by assuring Kenyans that it had no knowledge suggesting planned acts of violence within the lakeside city, as some media outlets had insinuated.
An aerial image of Kisumu. /FILE
"Alerts of this nature to American citizens are common ahead of elections throughout the world, and the United States has no information to suggest the security situation in Kisumu, or in any other parts of Kenya, have been adversely affected by election preparations.
"Kisumu hosts a significant number of U.S. Embassy personnel and is a frequent travel destination for American citizens," the statement addressed in part.
The embassy further noted that the U.S. Department of State has no greater responsibility than the safety and security of U.S. citizens overseas.
It therefore routinely issues security alerts surrounding elections, health conditions, and extreme weather, ensuring U.S. citizens have information that helps inform travel plans.
The advisory raised eyebrows considering Kisumu has been in the headlines for the wrong reasons, among them the stoning incident on Deputy President William Ruto's motorcade during his visit to Kondele, which led to the arrest of one of the county officials.
Kisumu Governor, Anyang' Nyong'o, assured Kenyans that the city's residents were peaceful and welcoming to visitors.
"On the travel advisory issued by the US Embassy Kenya urging American citizens to avoid travelling to Kisumu, I want to assure those travelling to Kisumu that our people are very peaceful and looking forward to welcoming you. Enjoy our beautiful sunset city," the governor stated.
The Embassy went ahead to issue a list of guidelines for Americans during the election period, even when not in the city. They include;
Monitor local media for updates.
Avoid crowds.
Avoid demonstrations.
Keep a low profile.
Be aware of your surroundings.
Be vigilant when visiting banks or ATMs.
Do not display signs of wealth, such as wearing expensive jewellery or watches.
Review your personal security plans.
Have travel documents up to date and easily accessible.
Carry proper identification, including a copy of the bio-page of your U.S. passport with a copy of a current Kenyan visa.
Security officers outside the US Embassy in Nairobi. /CBS NEWS