US Citizens Warned Against Travelling To Kisumu
The Embassy revealed that Kenya has periodically experienced some pre-electoral violence during election cycles.
An aerial image of Kisumu. /FILE
The United States (US) Embassy in Nairobi has issued a travel advisory to its citizens and personnel intending to travel to the lakeside city of Kisumu, ahead of the August 9 general elections.
In a statement dated Tuesday, August 2, the Embassy revealed that Kenya has periodically experienced some pre-electoral violence during election cycles.
It further noted that election-related demonstrations and rallies regularly take place in the run-up to the election and are likely to continue, at times blocking key intersections and causing traffic jams.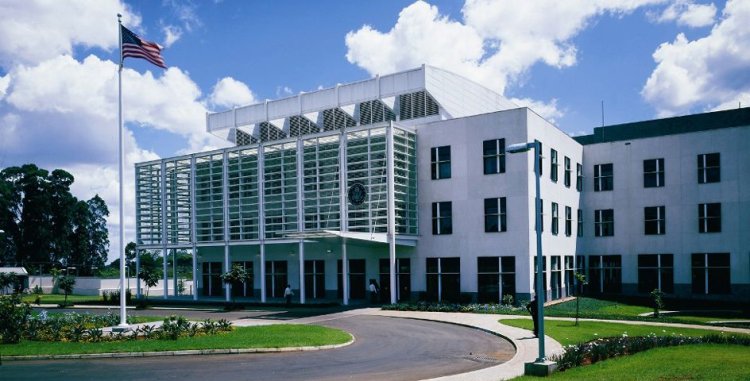 US Embassy in Kenya. /FILE
"Demonstrations may occasionally be violent, requiring police intervention. Strikes and other protest activities related to economic conditions occur regularly.
"Out of an abundance of caution, the Embassy has imposed movement restrictions on personnel in Kisumu. The State Department reminds U.S. citizens of the continued need for sustained vigilance," read the security alert in part.
The Embassy went ahead to issue a list of guidelines for Americans during the election period, even when not in the city. They include;
Monitor local media for updates.
Avoid crowds.
Avoid demonstrations.
Keep a low profile.
Be aware of your surroundings.
Be vigilant when visiting banks or ATMs.
Do not display signs of wealth, such as wearing expensive jewellery or watches.
Review your personal security plans.
Have travel documents up to date and easily accessible.
Carry proper identification, including a copy of the bio-page of your U.S. passport with a copy of a current Kenyan visa.
The alert came only hours after Interior Cabinet Secretary, Fred Matiang'i deployed more security officers to areas considered as hotspots for electoral violence.
Matiang'i said that the areas determined by the National Security Council (NSC) as notorious for electoral conflicts include some areas of the Rift Valley region.
"Following approval by the National Security Council for additional resources, security services will bolster deployment of personnel and equipment including aerial assets in Molo, Kuresoi, Eldoret and other areas in the country mapped out as vulnerable to disturbance," he announced.
He spoke after the new US Ambassador to Kenya, Margaret (Meg) Whitman, arrived in Nairobi after she was confirmed by the US Senate to be President Joe Biden's envoy to the capital.
The former Chief Executive Officer (CEO) of ICT firm Hewlett Packard (HP) and currently the richest person living in Kenya will be tasked with enhancing diplomatic cooperation between Kenya and the US during her stay in the country.
Meg Whitman during a past address. /AFP