11 Stories Viral Tea Covered During Elections That You Missed
The new website you see here was launched in July, with a one-month countdown to the elections on the horizon.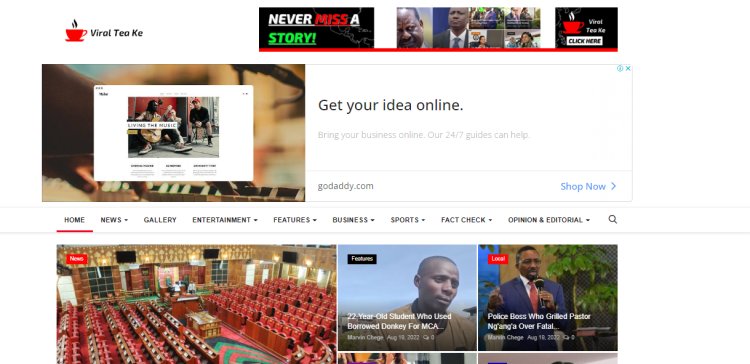 A screenshot of Viral Tea's homepage. /FILE
"Please let there not be a repeat election...," this writer whispers to himself as he writes this article.
The August 9, 2022, general elections were arguably Viral Tea's finest time to reinforce itself as a next-generation startup.
The new website you see here was launched in July, with a one-month countdown to the elections on the horizon. Preparations for what was to be an intense period of election coverage for not just us, but local media houses were something we planned for from the word go.
But because we were understaffed compared to other media houses, we had to carefully plan how we were to ensure our audience doesn't miss a single bit of live action, especially during voting day. We thus planned to come up with one big live blog for the voting day, the tallying and the grand announcement, with rotations on all those occasions on who will cover what.
Residents queue to cast their votes at the Kenyatta Sports Ground polling station in Kisumu County. /DAILY NATION
During the elections period, we did keep to our promise to ensure that our readers "Never Miss A Story" and almost all of our categories were populated with content, some of which Kenyans didn't notice happened.
Therefore, Viral Tea covers the stories you might have missed during the election period:
Kenyan model, actress and social media personality Caroline Muthoni (Carrol Sonie) responded to comedian Mulamwah's uncovering of her new lover by stating that he was her pastor.
Speaking in an Instagram live, Sonie affirmed that she was raised by her family with good principles and that she would never at one point be involved with a married man.
"My parents have raised me well, I want what is good and I have my own principles and I know what is right and what is wrong.
"Whoever was posted his name is pastor Eric Bingez. He's a pastor of mine, he's a friend of mine. He's a counsellor, I would say together with his beautiful wife Evelyne, they are my friend," Sonie narrated.
According to the actress, she had reached out to the pastor when she began having suicidal thoughts and was almost giving up before she turned to him for help.
"I reached out to pastor Eric when I was suicidal and I was tired with life and I was messed up and I said let me talk to some and the person I could talk to that time was pastor Eric. I called him, explained and thank God he was seeing everything that was happening on social media and I told him personally, that I'm tired and done with life.
"Eric together with his wife have been walking with me through all this. Eric is someone I respect together with his family. If I call him when I have an issue he is someone who will come together with his wife and help me and today I wake and I'm being told am dating him," she added.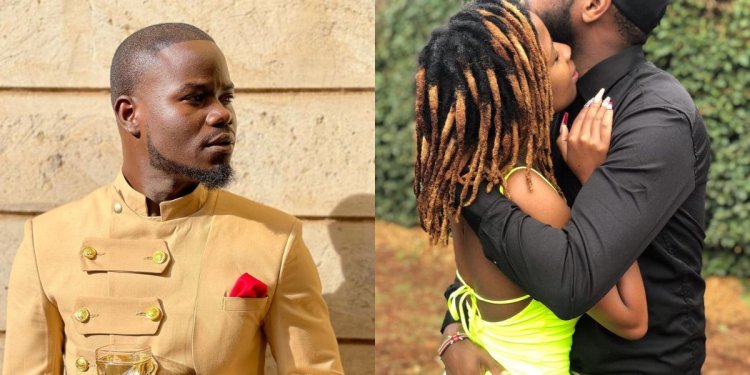 A collage of an unknown man hugging Mulamwah's baby mama, Carrol Sonie. /INSTAGRAM
Sonie further accused Mulamwah of being violent to her on multiple occasions while claiming that he sired a child with another woman, outside their relationship.
On Monday, August 8, Mulamwah used his Instagram stories to claim that Sonie was in a relationship with a married man while unleashing the face of her new man as well as that of his wife.
Low Turnout, Memes, KIEMS Kits: Highlights Of August 9 Elections
This was one of those stories that took quite the toll on us given that several sideshows had occurred during the August 9 general elections.
Five years since the controversy that forced Kenyans to vote twice in the 2017 general elections, the Tuesday, August 9, 2022, general elections took place with several eventualities quite a number would like to forget and others remember.
Much of the conversation was surrounding the Kenya Integrated Election Management System (KIEMS) kits before even the polls began and the issue of the KIEMS kits' functionality was brought to the limelight again.
Also, the earliest to vote in the echelons of the political space included the likes of Martha Karua of the Azimio la Umoja and Deputy President William Ruto, now the President-elect, who turned up at their polling stations within the 6 am opening day.
A general election in Kenya doesn't go by without its fair share of memes, which began in 2017 with the 'Githeri Man' trend. By then, Kenyans were experiencing the peak of their powers on social media as you might recall, the Saudi Arabian social networking service, Sarahah, gained prominence in the country where Kenyans On Twitter (KOT) shared the anonymous messages they received from thousands of their followers.
This year had Towel Man, Mkate Man and the 'Sina Maoni' man who lightened up an elections exercise marred with low turnout.
This was our first live-breaking story since the election exercise began that was reported at night. Typically, Viral Tea has a rule that we steer clear of covering stories past 9 pm-10 pm unless it is really necessary.
Police in Bungoma County launched a manhunt for Kimilili MP Didmus Barasa following a shooting incident at a polling station that left a rival's aide dead.
The incident took place at 6 pm at Chebukhwabi Primary School in Kibingei ward and it left a security guard of his closest rival, Brian Khaemba of the Democratic Action Party (DAP-K), dead, according to a police report seen by Viral Tea.
Khaemba had gone to the polling station to witness the counting of votes following the Tuesday, August 9, 2022, general elections and encountered Barasa on his way in. After about three minutes, Khaemba decided to leave the station and headed to his car with Barasa following him in the company of four men.
He had ordered them not to allow Khaemba to leave the place but his driver, Joshua Nasokho defied the order and switched on the vehicle.
"Hon. Didmus Barasa withdrew a pistol and aimed at Khaemba's aide namely Brian Olunga and shot him on the forehead where profusely bled. He was rushed to Kimilili sub-county hospital where he succumbed while undergoing treatment. Body lying at the hospital," added the police report.
Barasa has since been arrested and as of Tuesday, August 16, he was placed in custody for 10 more days. An autopsy carried out on Khaemba revealed that he was killed by a bullet that was aimed at his head.
The story of musician and rapper Julius 'Juliani' Owino and former Machakos County First Lady Lillian Nganga has been dominating local headlines that Kenyans barely noticed that the couple sired a baby boy.
Juliani disclosed to Presenter Ali on Wednesday, August 10 that he was pleased with his newfound experience as a father of his son, which is different from when he was raising his daughter.
The Utawala hitmaker noted that the couple had welcomed the newborn a few days before. He wanted to keep the good news a secret from the public eye until he was ready to announce it.
Juliani with Lillian Nganga. /FILE
It is worth it to note that Juliani has a first-born girl, Amor, whom he welcomed with actress Brenda Wairimu. The couple tied the knot at a private wedding in Paradise Lost, Kiambu on February 2, 2022.
The guest list had less than 50 people, including close family and friends.
22-year-old environmentalist Anita Soina announced on Wednesday, August 10 that she conceded defeat in her hopes of clinching the Kajiado North parliamentary seat, among the many politicians who declared that they conceded defeat. To simplify it, this has never happened in a common fashion in Kenyan elections before.
Anita, also known as 'The Green MP', announced her plans to vie for the seat in December 2021, saying she understands the challenges of her people. She became the youngest person in the country to contest a seat in the National Assembly.
"It's here. People over profits. Every day it hurts me to see what the people go through. Born to a Maasai dad from Kajiado North, as I trace back to my roots to understand my culture and as a young leader who understands some of the challenges facing the people.
"I have decided to do this. To me, the first step towards solving a problem is getting to that position of a problem solver. Twende Bunge tupiganie haki za wapiga kura!" she stated.
Before her stint in politics, she was the founder of Soina Foundation and Spice Warriors.
Socialite Amber Ray's ex and Deputy President William Ruto's ally Zaheer Jhanda is the Member of Parliament elect for Nyaribari Chache Constituency in Kisii County.
The United Democratic Alliance (UDA) candidate was officially declared as the MP-elect after he garnered 31,684 votes. He was competing against 11 other candidates his long-time political nemesis Richard Tong'i.
Tong'i, a Jubilee leader, who has already conceded defeat had served for two terms. He garnered 10,039 votes and was followed by James Kenani(ODM) who managed 5,086 votes. Journalist Erick Obino of Kanu came a distant fourth with 3,529 votes.
Amber had once dated Jhanda, who married her thereafter for a period of almost three years, but their relationship was mired by many issues, including his first wife accusing her of using evil spirits to break their marriage.
The socialite even went to the extent of denouncing her Muslim faith following the divorce.
"I apologize to my son and my family for all the insults they have had to bear in the past because of my decisions," she said.
Nairobi-based musician and songwriter, Wilson Abubakar Radido, alias Willy Paul ignited mixed reactions when he congratulated Mathare Member of Parliament (MP)-elect, Anthony Oluoch at the expense of compatriot Bahati.
In a statement on Instagram on Friday, August 12, the Toto hitmaker lauded Oluoch as the right candidate to lead the people of the Nairobi-based constituency.
"First, congratulations to the one Antony Oluoch for Winning the Mathare MP seat. You are what the people of Mathare need sir.
"You must have really done a good job, sir, retaining that seat is not easy! Keep pushing, Mathare is my home and I'm glad it's in safe hands again," he wrote.
He also congratulated Felix Odiwuor alias Jalang'o, who clinched the Lang'ata parliamentary seat
"Jalang'o congratulations, you are a living legend and you inspire me a lot. Now take the people of Lang'ata to the next level mheshimiwa (legislator)," he noted.
However, a section of his fans commented by stating that he was subtly mocking Bahati, his long-time rival, who finished third in the parliamentary race.
A video emerged showing former Nairobi governor Dr Evans Kidero telling off a female Citizen TV reporter to the point of turning down her request for an interview.
The 17-second clip seen by Viral Tea showed Kidero stepping to the front for the interview but he took notice of the actions of the reporter, Laura Otieno, which he did not like.
He accused her of taking her job for granted and questioned her on why she was doing it from the start.
Kidero then turned down her request for an interview after expressing displeasure in terms of her attitude.
Watch the video:
I don't want you to interview me- Evans Kidero to Citizen TV reporter#KenyaDecides2022 pic.twitter.com/NvAipzp1kv

— Marvin Chege (@marvin_chege10) August 13, 2022
Our fact check desk was very busy during the elections period as we were getting numerous reports of false information circulating the internet, especially the vote tallying. This was one of them.
A statement by the Standard Media Group (SMG) and Royal Media Services (RMS) with regards to the tallying of the presidential results in the 2022 general elections had been doing rounds on social media since Saturday, August 13.
The statement signed by RMS chairman, S.K. Macharia and ousted Baringo Senator, Gideon Moi indicated that the two media houses had tallying teams for the presidential elections based on Form 34A, with each carrying out their own tallying exercise.
RMS added that it has been tallying results of the previous elections from 2003 to 2017 (both rounds) and displayed the outcome on its screens for purposes of public viewing.
A fact check by Viral Tea confirmed that the alleged statement was false. RMS has had its own platform where Kenyans had access to presidential results as they streamed in, drawn from the Form 34As from the IEBC portal.
The Independent Policing and Oversight Authority (IPOA) is now investigating cases of misconduct amongst police officers deployed across the country for security during the August 9 general elections.
In a statement by the chairperson, Anne Makori on Saturday, August 13, IPOA revealed that despite the generally commendable conduct of the officers during the period, it took note of three isolated cases that it has since commenced investigations on.
Among the cases include an incident whereby two men were shot and a woman assaulted allegedly by the police in Eldas in Wajir County. All sustained non-fatal injuries.
It also flagged an incident whereby an officer attached to the Matisi Police Station in Bungoma County attempted to rape a citizen on Wednesday, August 10, 2022.
The agency is also investigating a third incident where a police officer in Uasin Gishu County allegedly shot and injured a political aspirant's bodyguard on the eve of voting day, Monday, August 8, 2022.
Kenyan influencer and content creator, Natalie Tewa Wanjiru, dismissed recent reports insinuating that she is engaged.
Photos on social media had captured her wearing what appeared to be an engagement ring, which further stoked curiosity amongst her followers especially after she stopped wearing the ring for a while.
However, she explained in a recent YouTube video that she wears the engagement ring for different reasons, one of them being that she uses it to ward off advances from men.
"I have this thing where I will wear an engagement ring every now and then because I like the aesthetic. Number two, it helps as a woman," she explained.
"I came up with this idea when I was 22/23 because men are disgusting, honestly some men are doing the most, so you don't want to be disturbed or bother and when you wear a ring, it will not bring all the respect that you want but they will respect that you have a ring."
Tewa added that she started wearing rings just to chase men away. At the time, she was working with a jewellery company which sent her a package to market for them and she chose an engagement ring.
A photo collage of Mombasa Governor, Hassan Joho and Natalie Tewa. /GHAFLA
On pregnancy rumours, she dismissed them by revealing that she was approached by a friend who asked her to market her baby shop on social media.
Conclusion
As compared to the traditional method of news coverage which has failed to meet the needs of users, Viral Tea morphed into multiple forms of content, especially to satisfy our Kenyan users who are in the youth category and almost always on their phones surfing social media and doing 1...2...3.
Our content is divided into three divisions, all of which were kept busy during the intense election period. Social media was arguably our complement but our main driver was the editorial, with videos capturing special events and two of the grand announcements, William Ruto as president-elect and Raila Odinga rejecting his election.
We knew very well to countercheck every source sending us information before relaying it across our channels. Some of our readers did call/message us several times to confirm if the results were true if things like Form 34C were uploaded to the IEBC portal, and so on.
The response has always been the same, "wait for IEBC to announce the results officially", much to their disappointment. Even the smallest of media startups can have information that could trigger chaos, so we cannot please everyone.
On Monday, August 15, we got a few articles over the line, then paused to wait for the biggest story of the elections; who would win? By then, we readied our graphics for social media coupled with downloading pictures and portraits of the top two candidates and planned on how we would break the big story and disseminate it across our channels and networks with breakneck speed and sniper accuracy plus precision.
However, neither of us was expecting the four IEBC commissioners to stage a parallel press conference which found one of us focusing on that story and the other ready to break the announcement from the IEBC headquarters. That Monday was massive, from Chebukati being attacked to Azimio la Umoja taking fault over the results to Ruto stepping out and leaving...and it didn't stop there after that announcement.
While the whole country stepped out of their houses to celebrate Ruto's win, we were no doubt kept very busy. Ruto's address to journalists followed and we were on cue to provide content touching on the highlights of that presser with local and international media houses.
We were dealing with several congratulatory messages, some we admittedly missed, from Heads of State to politicians to celebrities to prominent Kenyans. You could tell this was one of our most intense periods since we began as we were retiring to bed some minutes to 1 am.
At Viral Tea, we all know this would be over, but we all feared that Raila Odinga would challenge the results at the Supreme Court, one way or another, just like he did in 2013 and 2017 (the latter his petition passed through). With the 2017 memories, we thought "Crap, we might be heading to another intense period thanks to the repeat election."
Raila Odinga speaking at the Azimio media centre on August 16, 2022. /RAILA ODINGA
As if it was not enough, Cherera and Chebukati have been trading blows against each other over the presidential results, but much of the content focused on Cherera's 0.01 per cent Mathematical error, which we calculated carefully.
If Raila files his petition before Monday, August 22, this will mean 14 days of coverage and anxiously waiting for it to fail, because a repeat of 2017 could lead us to 60 days of election coverage, inclusive of campaigns...more intense work on our hands if it comes to pass.
As for now, we wait for our next challenge, the swearing-in of Ruto as president on Tuesday, August 30. A LinkedIn user typed this and was so gracious to tag us in the comments alongside established media personalities such as James Smart and Idah Waringa as well as media houses such as Capital FM.
Comments like these always keep us grinding and growing to bring you vibrant and credible information on a daily basis. Read it below: