Kenyan Man Surprised With Gift After 2 Years Abroad
Anyway, I wanted a better life for myself. I was really getting tired of looking at other Kenyans living large abroad and in their wildest dreams
Entrance to the Jomo Kenyatta International Airport. /FILE
Kenya is a beautiful country. All those mountains, forests, national parks etc...even the Safari Rally, make the country a good place to visit if you're a tourist.
However, it is really not that kind of country for seeking a better lifestyle, that is if you are into that sort of thing. I believe that we are still far from the likes of South Africa for example, which can boast of a Formula One track that might be included in the F1 calendar anytime from now...even though we have a Safari Rally.
Anyway, I wanted a better life for myself. I was really getting tired of looking at other Kenyans living large abroad and in their wildest dreams, having everything they ever wanted at their doorstep. I thought I could do very well with better.
The officially-commissioned Nairobi Expressway. /PSCU
Two Years Ago
I graduated with a Bachelor's degree in Psychology about three years ago. There was a huge bump I had to cover; I wanted to master in forensic psychology and to my surprise, none of the colleges in the country ranging from the little known to the highly prestigious was offering it as a graduate course on its own.
"Kata simu, kata simu, tupo site..." shouted a friend who disrupted my train of thoughts. I was seated by myself at a coffee shop, sipping a whole milkshake from a straw with human beings walking past thinking that I was doing okay as per normal...not this time.
Where would I go next? What would I do? I was so hell-bent on studying more psychology but first of all, to really practice it here requires one to take a master's course and get some certificate from a government body touching on the subject.
Second, who even wants to hire a forensic psychologist? The concept seemed a bit alien to Kenyans...let alone the government...so I was left with one final idea out of the blue, from that friend who did so much as talk about the upcoming football season which, in all honesty, temporarily puts an end to those persistent texts of 'Uko?' from Nairobi women who would only be good for seven minutes.
"Johnte, instead of looking for such a course in these Kenyan universities here, why don't you try abroad? I'm definitely sure there are so many branches of Psychology you would be willing to venture into, not just forensic by the way.
"Here (he hands me a card), talk to the guys that organise scholarships abroad...can be any degree program from undergraduate to graduate to post-graduate...name it. In case you're not that interested, you can maybe refer a friend," he recommends as we get up from our seats to head back to our temporary jobs.
I mentioned a temporary job. I was working as a part-time accountant at one of the country's top firms, so that would mean good money...you must be wondering what I'm doing as an accountant yet I studied something that involved more of words than numbers.
You see, I loved numbers for some reason...I grew up with my mother teaching me a lot about numbers, from balancing chequebooks to writing my own cheques, keeping an eye on every single digit to make sure it wasn't slipping away...among other things.
As a result, I was making a whole load of money in this new company, and saving some of it for my graduate studies...that is if I ever needed them. I was now approaching a time where I needed them to do those studies, elsewhere...not here.
I checked out the fellows organising scholarships abroad, they took me through the process and I can only count myself lucky that I didn't beat around the bush in high school. It took me almost a month to get my scholarship...and another couple of months to get a visa to travel to the United States (US)...I was lucky not to get those backlogs people were complaining about.
Two weeks before my departure, I had already reached out to my cousin who happens to live in San Francisco, to explain to him the full details of my trip to his house (first) and my own which was within the grounds of a top university which had the course I wanted. We have been talking for a while, just on casual terms, so staying over at his house on my arrival there wouldn't be too much of a problem.
A photo of San Francisco in California, USA. /WIKIPEDIA
I can find it hard to count how many goodbyes I said to almost all my family members before I walked through the airport gate, leading to my first flight to Dubai and then to San Francisco. I chose that route because I wanted to sleep for hours on arguably one of the longest flights in the world...and take a shower all at once...plus the airline I was flying has good service, based on what I was told before the journey.
Present Day
After two years of enjoying everything I wanted and growing a shade (maybe shades) more good-looking...probably attributed to the sun and the weather here, I was finally done...just picked up my final dissertation from my lecturer's office having graduated with a Masters in Forensic Psychology two days ago.
If you're wondering whether I abandoned my dedication to working to earn something in Kenya, I didn't. During my two-year stay in the US, I partnered with a friend to start a small blog where we would write nothing but informative pieces (at the start) before we expanded to include everything...call it a news blog if you may but a Kenyan touch because it just reminded me of home.
The pay I was getting was honestly better than what I was earning in Kenya, even though I was living in a state where even basic items were more costly than my first laptop (bought it at Ksh25,000 at the time)...well, not all.
The next dilemma was whether or not to stay here because the weather was so good or return home and deal with Mama Mboga (the posh one) wondering when I was going to support her economy. I didn't even start with the drafts of it when I got a curious knock at the door.
Odd...no one knows my address except for my friends and those who helped me settle here.
I thought, must be the mail delivery guy. Did I order pizza that I didn't ask for?
Was I about to be under attack? They would have broken my door.
No, I opened the door and found some beautiful lady just smiling at me...at random, and who was with her? My cousin.
"She's just as surprised to see you as you are to see her," he begins. I wonder what surprise he is really talking about, the idea that whoever was standing in front of me looked like my high school crush or that she somehow found my address, with the aid of my cousin.
I was almost letting her in when another man pulled up...not just any man, the Chief Executive Officer (CEO) of Nyota Njema Real Estate. Where have I seen him before?
(Two years ago, he met my mother when we were having our usual Sunday lunch. We exchanged contacts since he looked like a person of my interest and I have been stalking his company's social media pages more than I would with these Kenyan women- not as much as my high school crush)
I ushered the visitors into my house and my cousin just as I was about to fry my eggs and bacon and get ready to lounge on my couch and watch NBA highlights as I do live in a basketball-mad country.
I do apologise to the good man if I managed to doze off during the middle of the explanation. However, this is what I did pick up:
Anyone currently residing or working outside of Kenya, such as in other African countries, Asia, Australia, Europe, or the United States of America, is referred to as a Diaspora Investor. One of Nyota Njema Real Estate Ltd's goals is to guarantee that diaspora investors get good value for their money when they invest in real estate and that their property is adequately maintained.
The most important reason to choose us is that we provide a wide range of real estate products and services in a straightforward, honest, and transparent manner. Trust, teamwork, passion, and accountability motivate our employees.
We've been selling the products since 2018, and our main focus is on providing high-value prime plots and property management services. The products and services we provide to our diaspora investors are completely satisfactory.
What Propels Nyota Njema Real Estate Ltd in its Activities;
Integrity, Transparency and Accountability.
We provide Prime Investments so that you can get value for your money.
Our properties have Ready title deeds.
We have site visits for our Investors and we always provide all the required documents for the purchase.
Our properties are located in Prime Areas and can be used for residential or commercial.
Our Customer Service team are always readily available 24/7 to answer investors' queries and concerns.
We provide all the required documents for your property just for your safety.
Read more about Nyota Njema's Land Purchase Process and Requirements here
I was particularly alert to its juicy offer at that time, termed its ultimate offer; five (5) plots in Nanyuki for only US$10,000 (Ksh1.2 million approximately). Five plots for the price of four, imagine that!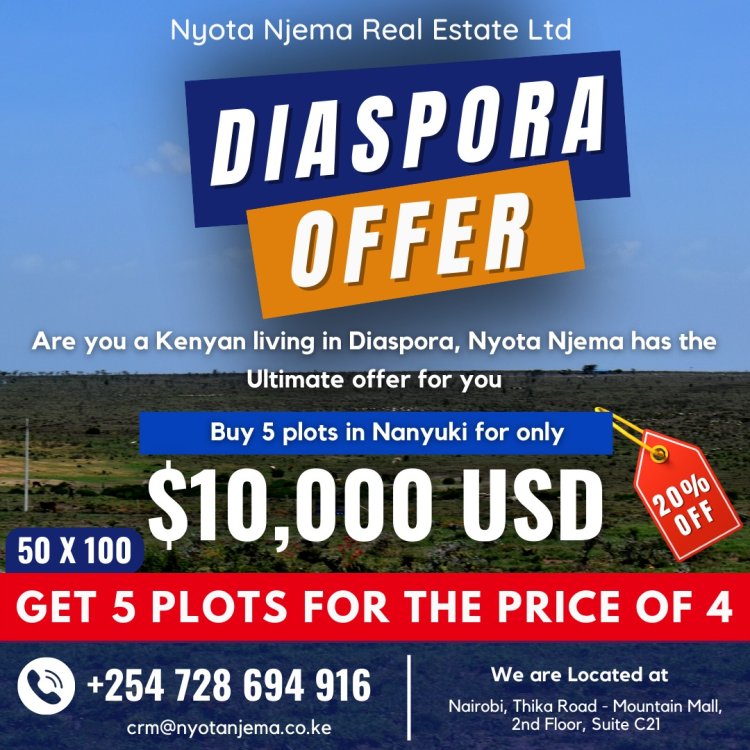 A poster advertising five plots in Nanyuki, Laikipia County. /NYOTA NJEMA REAL ESTATE
Of course, being the man who wants to see it in the flesh before listening to my cousin to buy it, I inquired about a site visit. Luckily, it was a summer holiday, so plenty of time to escape to Kenya and visit the lands before going to watch the Safari Rally which has been on my schedule for a while.
Weeks later, after seeing how the lands, and Nanyuki, in general, have grown, we've commenced on slowly paying for our first plots of land in our lifetime. For sure when people say "Nyota iko site", they actually mean it.