Ruto's Message To Brazilian Football Legend Pele
President Ruto joined other world leaders in mourning the loss of one of football's greatest icons who inspired many young boys to dream of reaching the top in playing 'the beautiful game'.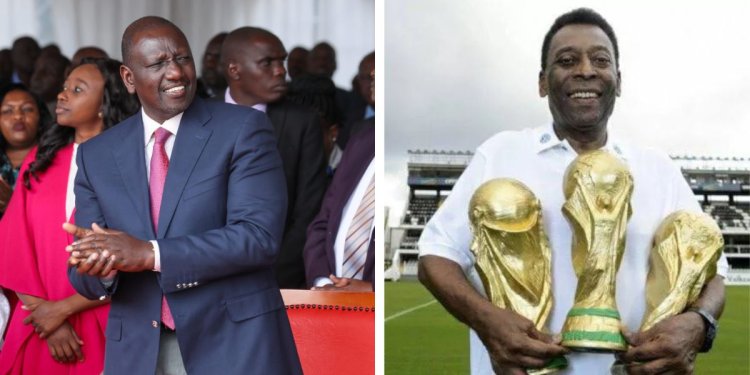 A collage of President William Ruto and the late soccer legend Pele. /VIRALTEAKE
President William Ruto on Friday morning, December 30 joined football fans across the world in mourning the late Brazilian football legend Edson Arantes do Nascimento, commonly known as Pelé.
Pele passed away on Thursday evening, December 29 at the Albert Einstein hospital in Sao Paulo following a long battle with cancer. The news of his demise was made public through a message on his Twitter account.
"Inspiration and love marked the journey of King Pelé, who peacefully passed away today. Love, love and love, forever," the Tweet read.
The late Brazilian soccer legend Pele with a World Cup trophy. /FILE
President Ruto joined other world leaders in mourning the loss of one of football's greatest icons who inspired many young boys to dream of reaching the top in playing 'the beautiful game'.
"Pele made millions of young boys in the Global South to dream. His profile as a Global icon of sporting excellence and high athletic achievement was an inspirational model which encouraged young men to transcend their limitations and defy all economic, social, cultural and political barriers.
"His legacy extends beyond the soccer pitch, the goals he scored and all his other exploits beyond soccer itself where his charisma and talent made wonderful things possible to authentic global leadership of a unique, talismanic kind. May his soul rest in peace," he wrote.
On his part, former Prime Minister Raila Odinga described Pele as the force behind the change in football.
"He deserves credit for the entertaining matches we've come to expect. In many ways, he was the best and a pioneer. He'll be dearly missed. Pele, Rest in Peace," Odinga's tweet read.
Other world leaders including former US President Barack Obama joined the soccer fraternity to mourn and celebrate one of the greatest footballers of all time.
"Pelé was one of the greatest to ever play the beautiful game. And as one of the most recognizable athletes in the world, he understood the power of sports to bring people together. Our thoughts are with his family and everyone who loved and admired him," Obama's tweet read.
US President Joe Biden also remembered the footballer highlighting his growth from a humble background.
"For a sport that brings the world together like no other, Pelé's rise from humble beginnings to soccer legend is a story of what is possible. Today, Jill and I's thoughts are with his family and all those who loved him," Biden's tweet read.
France President Emmanuel Macron described Pele as 'The game. King. Eternity'.
Named athlete of the century by the International Olympic Committee in 1999, Pele is the only footballer in history to win three World Cups -- 1958, 1962 and 1970. Before his death, he was Brazil's joint top scorer of all time with a record of 77 goals scored in a total of 92 matches.
Known for his genius with the ball, he epitomized the sublime style of play called "samba football" in Brazil, where he was declared a "national treasure."
Nicknamed "O Rei" (The King), he scored more than 1,000 goals in one of the most storied careers in sport, before retiring in 1977. He scored a total of 12 goals in his appearances in 14 World Cups while also providing 10 assists making him the player with the most in the history of the soccer competition.
In the year 2000, he was voted World Player of the Century by the International Federation of Football History & Statistics (IFFHS) and was one of the two joint winners of the FIFA Player of the Century.
While in retirement, Pele was a football ambassador who was awarded the FIFA Ballon d'Or Prix d'Honneur in 2013 in honour of his career and achievements in the popular sport. He was later 2020 named to the Ballon d'Or Dream Team, a greatest of all-time XI.
Brazil national team players honour Pele at the 2022 FIFA World Cup. /FILE
He had been in increasingly fragile health, battling kidney problems and colon cancer, undergoing surgery for the latter in September 2021, followed by chemotherapy.
The government of Brazil has since declared a three-day national period of mourning in his honour, as announced by Brazilian President Jair Bolsonaro ahead of his exit from office on Sunday, January 1, 2023.