Second Killing In Three Days Reported In Kisii County
Matundura is alleged to have killed his stepson Peter Bogecho over family wrangles at the Igonga Sub location in Kisii County.
A police station in Kisii County. /THE STAR
Sebastian Matundura, a 61-year-old has surrendered himself at Gesonso police station for killing his stepson, a 30-year-old, in Kisii County, the second time a murder has been reported in the county in less than a week.
Matundura is alleged to have killed his stepson Peter Bogecho over family wrangles at the Igonga Sub location in Kisii County.
According to a police report, he was quarrelling and the incident led to the stepson being hacked to death. He then went to his neighbour to report that he had killed his stepson.
Kisii South OCPD Charles Machinji addressing the press. /VIRALTEAKE.ELIZABETH ANGIRA
Confirming the incident, Kisii South OCPD Charles Machinji said that the accused person has surrendered himself at the police station as they launch investigations.
Machinji urged the public to solve issues amicably, calling upon the public to always report grievances and illegal acts committed against them instead of taking the law into their own hands.
He pointed out that there have been a few cases of people taking the law into their hands and warned that anyone who does so risks being punished by law regardless of committing the offence against a suspect or a wrongdoer.
"Taking the law in your hands can lead to victimising an innocent person or sometimes lead to violence and body harm where assault and mob justice are involved, this is why we urge you to always report any misunderstanding to the authorities," he said.
The body of the deceased has been transferred to Kisii Teaching and Referral Mortuary awaiting autopsy.
This comes hours after a court in Kisii ordered 35-year-old Nelson Momanyi Ontita, accused of beheading his two daughters in the Kiobegi Sub location to be detained for 14 days.
Ontita appeared in Ogembo Law court for killing his two children aged 10 months and two years and dumping their bodies on the farm. He appeared before Court Principal Magistrate Calestous Sindani under a miscellaneous application.
Prosecution Council Ian Mukusi on his application told the court to grant them 14 days to complete investigations following the affidavit sworn in by the investigation officer handling this case.
Teresa Mandera, the mother of the deceased children, said that during the time of the incident, she was on the farm when she came across her two daughters who had their heads cut off.
"That's when I screamed to alert my neighbours, unfortunately, Ontita chased me with the intention to kill me, I ran for the safety of my life," she said.
The mother added that the neighbours came and alerted the police officers. According to her, the other three children were lucky to have survived as they were at the stream fetching water when the incident occurred.
Kenyans were only beginning to recover from another shocking tale which occurred in the last month of 2022. The case of three-year-old Junior Sagini, a boy whose eyes were gouged out by unidentified assailants in Kisii County drew nationwide uproar and the attention of President William Ruto.
"Please let's be mindful of our children. I'm surprised to hear that there are some parents who are putting their children's lives in danger.
"We have seen that there is one parent in Kisii who has gouged out the eyes of a child, something that is very shocking. I don't know which type of devil is possessing a human being to the point that he is harming a child that does not have a sense of guilt, a child who neither has an error nor is doing any wrong to anyone in life," he addressed.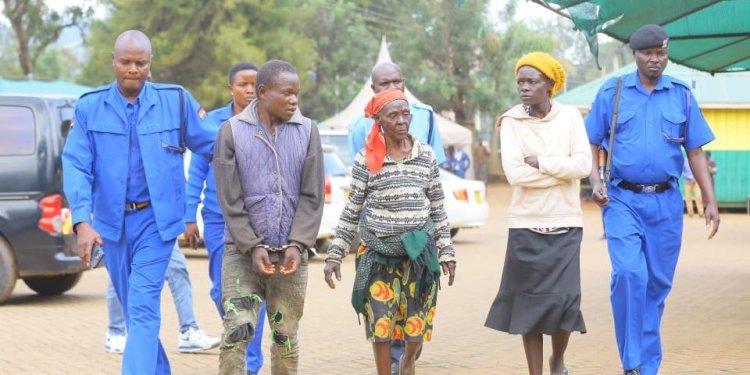 Baby Sagini grandmother Rael Nyakerario (centre), his aunt Pacifica Nyakerario (right) and her son Alex Ochogo. The three will face charges for causing grievous harm to the three-year-old boy. /DAILY NATION