Suspects Panic, Throw Two Stolen Phones Away During Mombasa Chase
A three-man gang on a motorcycle made a sudden stop, roughed him up and snatched his two mobile phones in seconds.
A view of Nyali Beach in Mombasa. /WIKIMEDIA
Three robbery suspects who accosted a man in Nyali, Mombasa county, stealing from him two mobile phones were taken into police custody on Wednesday, November 23, after their escape plan was foiled by police officers.
The Directorate of Criminal Investigations (DCI) reported that the 6.45 pm incident on Tuesday, November 23 involved the robbery of the victim who was making his way from the calm waters of the long white sand of Nyali beach.
A three-man gang on a motorcycle made a sudden stop, roughed him up and snatched his two mobile phones in seconds.
A police officer attempts to arrest a bodaboda rider in a past operation. /FILE
"But as the trio revved up their get-away motorcycle, the victim made a piercing scream for help that attracted the attention of police on patrol and bodaboda business operators, who made chase.
"Panicking like cornered rats and fearing for the impending brutal repression by the public, the miscreants wobbled to a dead end at the Mamba Village roundabout, surrendering to the police who were a surer bet for a second lease of life," the DCI stated in part.
Ali Shariff Omar, 21, of Mla Leo - Kisauni, Zulfi Zulfikar, 20, of Mshomoroni and 18-yr-old Ali Baribi Kiyema from the Basketball area in Kisauni were escorted to Nyali Police Station, where the motorcycle make Boxer KMFX 362B is also detained.
The stolen Samsung S8 and Huawei smartphones were however not recovered, the suspects claiming they had thrown them away into a thicket during the chase.
The Nation had reported that four armed robbers on the evening of Monday, November 21, 2022, stole bread and Ksh21,000 at gunpoint in Kasarani. A Hyundai motor vehicle which was being driven by Nicholas Mutie, 38 and Mr Faruk Ongaki, 22 was stopped by the suspected robbers.
"It was established that the motor vehicle of registration number KBS 915D which was loaded with 281 crates of bread was accosted and robbed by four men who were armed," a police report stated as quoted by the publication.
The armed robbers demanded that the two surrender their mobile phones which they did. They also dismantled a tracking gadget and siphoned all fuel and loaded the bread onto a waiting vehicle whose registration number was not captured.
Also in Kasarani, a 29-year-old man was arrested after being found in possession of 265 iPhones and 10 Android smartphones.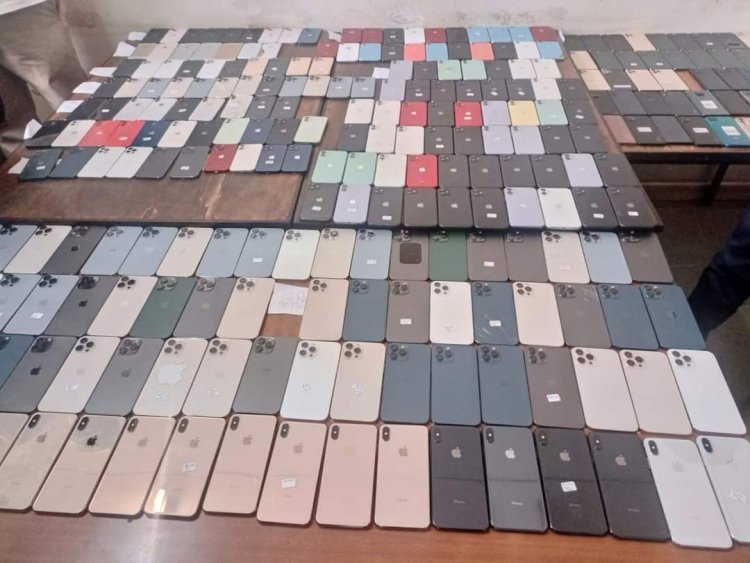 Over 200 iPhones and Android smartphones seized on November 21, 2022. /TWITTER