2 IEBC Officials Arrested For Refusing To Count Votes
The two, a presiding officer and his deputy were arrested on Wednesday, August 10 for failing to count ballot papers.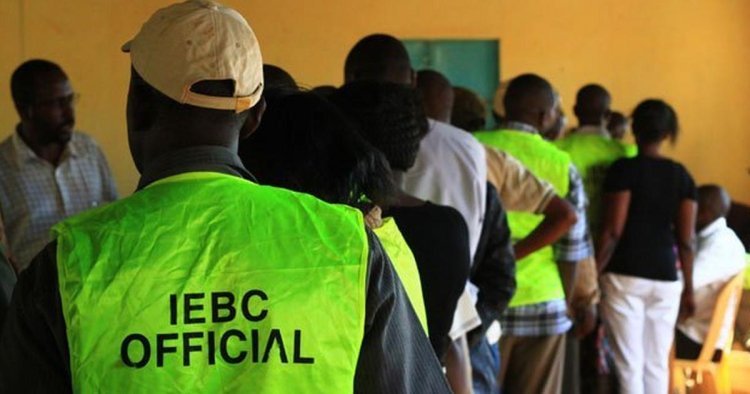 IEBC officials guiding voters at a polling station. /FILE
Police in Kisauni, Mombasa County have arrested two Independent Electoral and Boundaries Commission (IEBC) officials for sabotaging the ongoing vote tallying process that started after the August 9 general elections.
The two, a presiding officer and his deputy were arrested on Wednesday, August 10 for failing to count ballot papers.
34-year-old Nicholas Nyamuya and 26-year-old Sawia Mutes Kirunda were in charge of the Utange polling station in Kisauni at the time of the arrest. They had realised that a candidate had gathered more votes.
A photo of ballot boxes at a polling station. /K24 DIGITAL
Nyali Police Commander Daniel Masamba said the duo will be charged with willfully rejecting or refusing to count ballot papers, which is an offense under the Election Act 2016.
"The suspects are already in police custody awaiting to be arraigned in court to face relevant charges," Masamba said.
The arrest comes after four IEBC officials were fired by the commission after they were arrested for holding a secret meeting at the home of a former Member of County Assembly (MCA) aspirant in Riat village, Homa Bay County.
Homa Bay county IEBC returning officer, Fredrick Apopa confirmed that the officials had engaged in electoral malpractices by attending the meeting.
They included a presiding officer, two deputy presiding officers and a clerk and were supposed to take charge of Kwabwai and Kanyadoto wards during the August 9 general elections.
Media reports had revealed that the county officials had been made aware of the secret meeting and trooped to the politician's home in order to disrupt it.
The quartet of election officials were later dragged to the nearby police station. However, some election officials had managed to escape from the house just before the irate residents caught up with them.
Witnesses at the scene alleged that the four officials were working on an agreement with some of the candidates to gain an advantage in the elections.
"I was tipped that the IEBC officials were striking a deal with the candidates to ensure that ballot papers are marked and stuffed into ballot boxes in their favour on the election day," a witness told NTV.
Ndhiwa sub-county police boss, Paul Rioba revealed that investigations were ongoing in order to establish the agenda of the discussions with a view to taking additional action over the matter.
Some of the attendees of the meeting included an MCA and a parliamentary candidate. Apopa, while reprimanding the officials for their actions, noted that the matter, upon completion of investigations, will be left to the police and other authorities including the Office of the Director of Public Prosecutions (ODPP) to determine whether or not they will be charged.