Jamal Rohosafi: Nairobi Matatu Boss Begs Amira To Forgive Him
He noted that he was so hurt that he couldn't take it anymore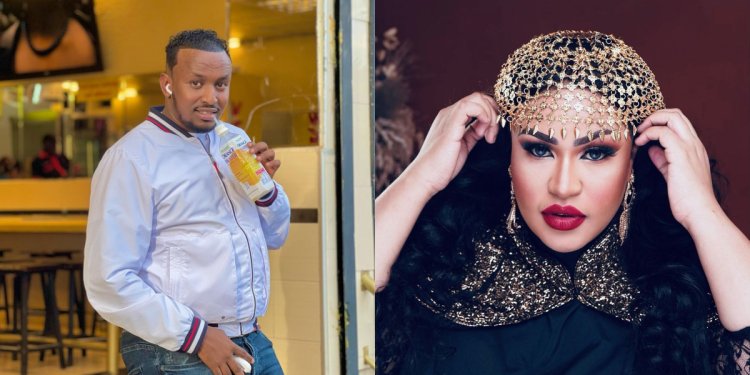 Side by side image of Jamal Rohosafi and Amira. /VIRALTEAKE
Nairobi Matatu Operators Chairman Jamal Ibrahim, popularly known as Jamal Roho Safi, has penned a public apology to his estranged wife, Amira.
Taking to Instagram on Saturday, July 16, the businessman expressed his remorse for causing her untold emotional pain and disrespect which led to the couple separating.
He noted that he was so hurt that he couldn't take it anymore, thus penning down the message with hopes of a response from her.
"If I'm being honest, this hasn't been easy for me to write. Out here I may seem okay but deep down I'm broken and I can no longer continue to live like this.
A past photo of Jamal Rohosafi and Amira. /FILE
"Most of you if not all know what happened between me and my wife and how we came to the limelight. To say the least, it was chaos! It was messy! It was downright ugly! I may have seemed unbothered but I was helpless," he wrote in part.
Jamal admitted his wrongdoings and apologised to Amira for embarrassing her, even indirectly.
The Nairobi matatu boss had seemingly referred to Amira's altercation with socialite Faith Makau, alias Amber Ray, which occurred in Syokimau, Machakos County in the late night hours in June 2021.
"I knew it was wrong, I knew you were hurting but I just couldn't get myself together! Amira, I am doing this because the disrespect was also as loud.
"I apologize for all the disrespect, for all the embarrassment, for all the hurt, for all the pain, for all the trauma. I am sorry for all the times I haven't been the man I promised to be," he added.
Jamal further pleaded with Amira to forgive him, adding that their relationship had many of its unforgettable memories.
"You're my wife I was supposed to protect you and never associate you with any kind of drama! I failed and I admit it. Please forgive me, we come from way back and for me to put you through all that mess was distasteful," he concluded.
Amira is yet to issue a response to the apology by the time of publication. It comes after she had vowed to file for a divorce, prompted by disrespect on her part.
She took to the Kadhi's Court on November 4, 2021 through a picture shared on her social media, noting that she had had enough.
"On the 4th of November I got the courage to stand up for myself. It's something that I should have done a long time ago bit didn't have the courage to. But it reaches a point where enough is enough.
"Today is breaking point for me and I hope this will also give you courage to leave whatever has been holding you back. Working towards becoming a better version of myself and caring for my kids. And doing my business. One step at a time," she wrote at the time.
View this post on Instagram
During the night confrontation which weakened relations between the two women and Jamal, Amira, who was in the company of a group of ladies, accused Amber of using black magic to seduce her man and they warned her against causing trouble in people's marriages.
"This is my house and this is my compound. I got home late and I heard someone shouting outside my gate.
"I never went to her place. She came to mine. Kieleweke!" shouted Amber, with their confrontation and insults waking up neighbours in the estate.