Why Liz Jackson Was Right To Demand Kenyan Men's Net Worth
The interview shared on social media drew mixed reactions from Kenyans...
A collage of SPM Buzz reporter Liz Jackson. /FILE
Since SPM Buzz reporter Liz Jackson's interaction with Foreign Affairs Cabinet Secretary (CS) Alfred Mutua at State House went viral, many Kenyans have been monitoring her moves with keen interest.
Viral Tea was amongst the first online news platforms in the country to highlight Jackson meeting Mutua on the sidelines after a media address by President William Ruto and his South African counterpart, Cyril Ramaphosa and had exclusively reached out to her regarding why the former Machakos Governor gave her his number.
The meeting also increased her presence on Twitter, given that she went from 900 followers to over 6,700 followers in a span of nearly four days.
However, the Lifestyle and Travel Content creator unwittingly started a heated online debate after she listed conditions potential suitors must meet if they want to date her, during an SPM Buzz interview on Saturday, November 12.
Liz Jackson of SPM Buzz meets Foreign Affairs CS Alfred Mutua on November 9, 2022, at State House. /TIKTOK.LIZ JACKSON
"Relationships and money are things that matter a lot. For example, I can only date someone who earns higher than I am.
"So that I know, you must tell me your net worth, and what line of work you are in so that I know 'this guy earns Ksh90,000...he's below my standards to be honest because Ksh90,000 is my rent," she mentioned.
However, one of the panellists cornered Liz due to her double standards, noting that she was listing requirements she would not meet if the ball was in her court.
"So you're not willing to sign a prenuptial agreement nor declare your net worth but you're willing to compel men to do the same?" the panellist posed.
The interview shared on social media drew mixed reactions from Kenyans, with many women agreeing with Liz and some of them, as well as men, questioning her and warning that her standards would be her undoing.
Viral Tea spoke to Dr Kennedy Ongaro, a sociologist and professor at Daystar University in Nairobi, who was of the view that women of the modern generation were considering protective factors in a potential suitor, including power.
"We also need to understand the society we live in, most women are particularly looking for issues in protective factors. When you talk about protective factors, you talk about social connections and concrete support in times of need.
"We need to understand that many times when you deal with these particularly high profile people; why do women need highly profiled people? They are attracted to power and it is every woman's dream to have a good life and a luxurious life without working hard," he told Viral Tea.
Dr Ongaro further viewed that women can adequately take care of themselves and accord themselves the best self-treatment, which raises their social profile and makes them attractive. As a result, they want to be associated with power.
"They can have the money, do their own shopping, they can go to the best restaurants and many other things associated with women of class and men of power and in that case this is what gives you social status and people in many instances whether they are educated or not they want to associate themselves with power," he added.
In Liz's case, he believed that she wanted to connect with Mutua as a means of increasing her profile given that she's a 23-year-old journalist working at a media house owned by a famous comedian, Eddie Butita. Psychologically, an interaction like that boosts self-esteem and brings about a sense of belonging.
"Many people, both men and women, in many instances look for a good life. This means that when they have money, particularly without understanding what money can do, they can perceive that to be a good life.
"In many societies people want power and the only way you can associate yourself with power is by connecting with those people building and creating rapport with those people who have money," he added.
The sociologist also sided with Liz's demand for a potential suitor's net worth and the line of business he is into which would cushion him from the adverse effects of losing his job. Simply put, the criteria in a relationship of that manner would involve security, one of the bases of the famed Abraham Maslow's Hierarchy of Needs.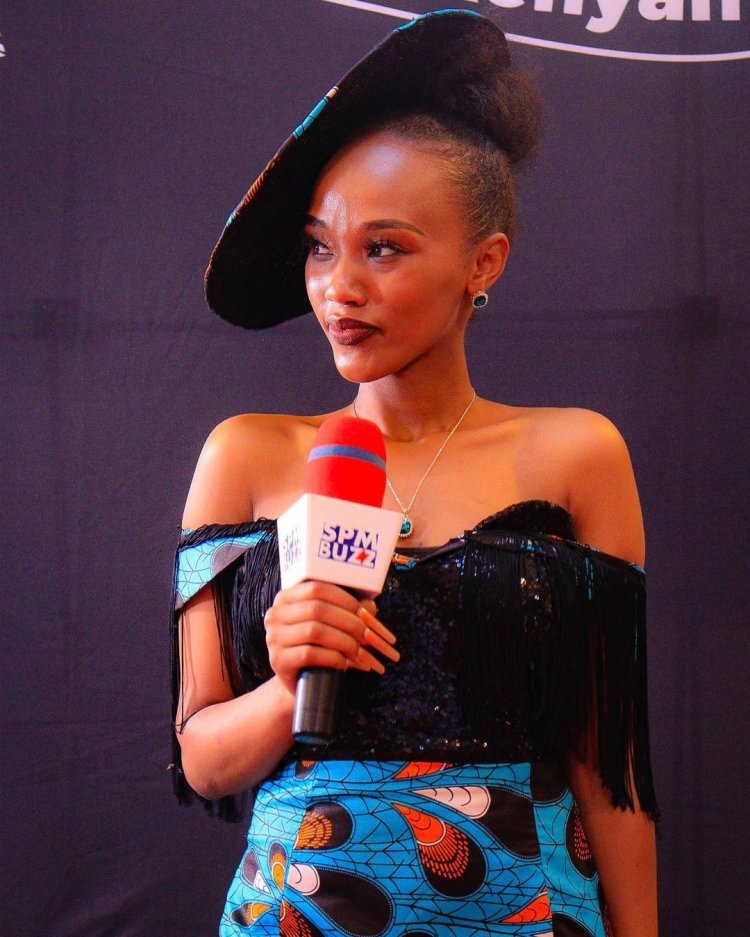 Liz Jackson posing for a photo. /INSTAGRAM.LIZ JACKSON
However, Dr Ongaro expressed worry about the pitfalls she and other women would take while opting to target a man who is socially higher than them in exchange for attention.
"On top of that, she also wanted recognition. At the end of the day it comes with some shortcomings and challenges, and some of them sometimes, when you hook up with these highly profiled men, it can cause some loneliness and insecurity, sometimes low self-esteem and because you'll be given conditions under which you must adhere to in such a kind of relationship.
"At the same time there's the feeling of fear because when these people or men have money, they can easily go for other beautiful women and in the long run, you remain lonely," he noted.