Comedian Nasra Yusuf Lists Four Causes Of Breakup With Husband
This has been one of Nasra's most difficult years, given that she had lost an unborn child she had sired with Rashid.
Churchill show comedian Nasra Yusuf. /INSTAGRAM.NASRA YUSUF
Churchill show comedian and content creator Nasra Yusuf and her husband Director Rashid have called it quits on their marriage.
Taking to her Instagram account on Saturday, November 26, Nasra recounted the struggles she went through during her fight to keep the relationship afloat, which ended up ruining relations with those she was close to.
In addition, she admitted that the relationship made her forget who she is and her career as a comedian was negatively affected, on top of the criticism she got from her community.
However, she was determined to make it work, even though the problems kept coming back to haunt her for a period of five years.
Comedian Nasra Yusuf and immediate former husband Director Rashid. /FILE
"So yes I am single. Anyone that knows me, knows that I fought for that relationship.
"I lost touch with family because of it, I lost myself and my career because of it, I lost friends because of it and I got constant criticism from my community because of it but I was still willing to make it work even though the roots of our problems were the same year in year out for five years," she wrote in part.
Nasra added that the toughest part was moving on from ending the relationship, noting that she lost it in front of friends and strangers as a result of living in denial.
However, she was grateful to her friends and family for saving her from the brink of plunging herself into depression.
"Moving on hasn't been easy on me, I had very extremely low moments, I cried myself to sleep, I broke down several times in front of friends and strangers, I was in denial, and I had so much regret, but I finally accepted that it was time to close that chapter
"I went through all the stages of grief and were it not for my mom, sister and friends, I would have sunk even deeper, so thank you guys for walking with me during this hard period," she added.
Nasra went on to wish Rashid the best life has to offer, praising him as an incredible human being who deserves to be happy as well as someone better. She further prayed for more doors to open for him.
The comedian went on to disclose that she was going back to the dating scene and hinted at returning to the Somali community.
"Sasa ni kurudi soko! (Now it's time to go back to the market) wacoast tushamalizana (I'm already done with Coastal men). I think I'll come back home. Somali men, it's your time to shock me," she added, further inviting them to an upcoming fashion show.
This has been one of Nasra's most difficult years, given that she had lost an unborn child she had sired with Rashid.
"Loosing my little angel before I even met him/her makes it even harder to process I was way too excited for this journey, I had everything, from the name to the sort of life he/she would have all figured out in my mind..ooh how I wish I just saw your little face, my baby," she described in a heartbreaking social media post on Monday, July 4.
She nonetheless expressed gratitude to her husband for supporting her through this tough time; through trials and tribulations. Nasra added that the baby was loved not just by herself but also by her husband, friends and family.
News of Nasra's pregnancy with Rashid had sent shockwaves throughout social media and subsequently, a wave of congratulatory messages from friends and fans of the duo.
The two tied the knot on April 25, 2021, after they were engaged on February 18 of the same year.
Coincidentally, they are both comedians of the Churchill show. They first met during the show's Top Comic in 2018.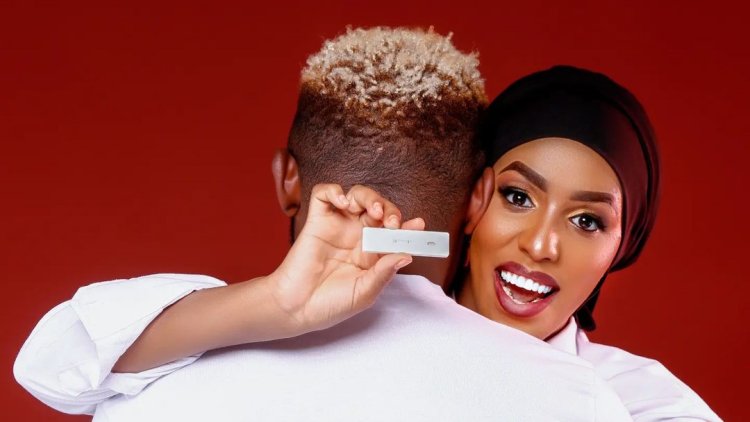 Churchill show comedians Nasra Yusuf and Director Rashid when announcing her pregnancy with their first child. /INSTAGRAM