Plot By Student To Have Sex With Lover At Girls School Fails
The Directorate of Criminal Investigations (DCI) revealed on Tuesday, November 22 that the student was caught red-handed by other girls at the school who raised alarm.
A girls dormitory at a high school in Kenya. /FILE
An 18-year-old male student had his plans of meeting his girlfriend at a secondary school in Nyeri County on Monday night, November 21 go up in smoke, as learners prepare to sit for their national examinations scheduled for November 28, 2022.
The Directorate of Criminal Investigations (DCI) revealed on Tuesday, November 22 that the student was caught red-handed by other girls at the school who raised alarm.
To make matters worse, their screams ruined his subsequent efforts to locate his girlfriend among them at their dormitory, which drew the attention of the school's principal.
"Frantic efforts by the restless young man to trace his girlfriend from a crowd of girls walking to their dormitory bore no fruits, as the shocked girls started screaming attracting the attention of the school's guard and the principal.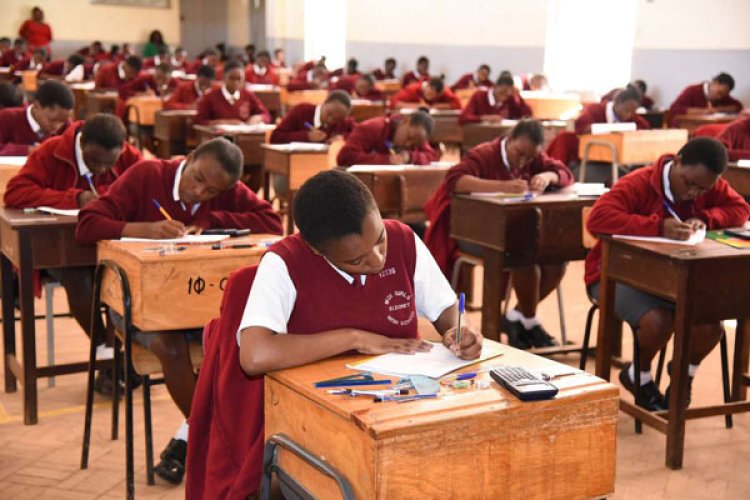 KCSE students doing their exams. /FILE
"According to sources from the school in Karima location, the young man from Gatugi Day secondary school who was dressed in the girls' school uniform from head to toe, joined a group of girls as they walked to their dormitories from their evening preps, minutes past 10 pm," stated the DCI in part.
The student then sought to know from one of them the whereabouts of a specific girl who however became suspicious since the voice sounded unfamiliar and husky.
This prompted her to have a closer look at the person making the inquiry, only for her to realise that the individual with a broad chest and hairy chin was a man dressed in their school uniform.
"She immediately started screaming prompting a cacophony of screams from the other girls, as they fled to different directions in bewilderment, almost causing a stampede. The school guard who heard the loud screams and scuffles as the scared girls scampered for dear life rushed towards the dormitories to find out what was happening," added the DCI.
On his way, the guard encounter a young man who had pulled his skirt above his knees gathering it in a single knot which he held with his left hand, as he sped off with long strides looking for an escape route.
The guard immediately went after him and just before he jumped over the school perimeter, he pounced on his shoulders and pinned him on the ground, aborting his seemingly well-planned escape mission.
Police officers were alerted by the school principal and they responded immediately. The young man told the officers that he had been invited over by his girlfriend for some unspecified business, that the officers could not immediately establish.
However, three condoms, a mobile phone and a lighter were recovered from the student who had stuffed his chest with pieces of items of clothing, to create a false impression of a female bosom.
He was taken to Othaya police station where he is being processed for the offence of preparation to commit a felony.
Kenya National Examination Council (KNEC)'s 2022 Kenya Certificate Secondary Education (KCSE) Exam Timetable
The incident comes at a time when secondary schools are preparing to sit their national examinations that begin on December 2, 2022.
On Friday, November 18, 2022, before the start of the exam, all KCSE candidates across the country had their rehearsals in preparation for the national examinations.
At the same time, all candidates who took classes in Arabic orals, Kenyan sign language, French, music, and German sat for their first examination on Monday, November 21, 2022, which are expected to run until Friday, November 25, 2022. The main papers are scheduled to start on December 2.
The KCSE candidates for 2022 are set to sit for their English paper one (Functional Skills) and Chemistry Paper One on Friday, December 2, 2022.
On Monday, December 5, 2022, all candidates will sit their Mathematics Paper One and English Paper Two (comprehension, literary appreciation, and grammar).
English Paper Three, Chemistry Paper Two, and General Science Paper One will be done on Tuesday, December 6, 2022.
Candidates will again sit for their Kiswahili papers one and two on Wednesday, December 7, and thereafter on the same day sit for Mathematics paper two and Kiswahili paper three on Thursday, December 8.
Chemistry examination practicals will be done on Friday, December 9, 2022, while on Tuesday, December 13, the students will sit for religious education papers (CRE, IRE, HRE) paper one and Biology paper one.
The religious paper two and History and government paper one examinations will be done on Wednesday, December 14th.
Biology paper two examinations, History, and Government paper tests will also be done on Thursday, December 15th followed by Biology practical which will be done on Friday 16th.
During the last week of the examinations, the candidates will sit the General Science paper, Geography paper one, and Physics Paper One, on Monday, December 19. Agriculture and Business paper one will be tackled on Tuesday, December 20.
Later, on December 21, candidates will sit for Physics paper two and Geography paper two whereas, on Thursday, December 22 candidates will tackle Business paper two and Agriculture paper two.
The final paper, Physics Practical, will be done on Friday, December 23.
Education CS, Ezekiel Machogu with President William Ruto. /FILE