Amira: How Jamal Rohosafi's Apology Triggered Dark Memories
She further noted that it exacted a heavy toll on her and...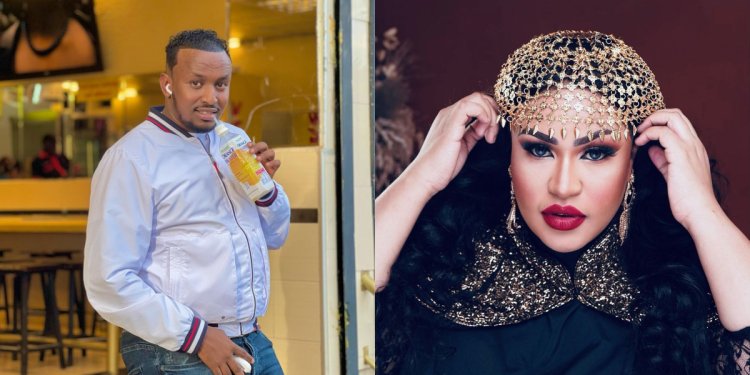 Side by side image of Jamal Rohosafi and Amira. /VIRALTEAKE
Nairobi Matatu Operators Chairman Jamal Rohosafi's wife, Amira, has opened up on how his apology to her on Saturday, July 16 led to a flashback of some of her worst periods of her life.
In a statement on Instagram on Monday, July 18, Amira noted that since Jamal's apology and subsequent request for her to forgive him, she had been forced to do some introspection on what she went through both in public and away from the public eye.
She further noted that it exacted a heavy toll on her and asked for guidance as she stated on how best she could handle the matter.
Amira decided to respond to the public apology after playing coy with the matter for the whole weekend.
A past photo of Jamal Rohosafi and Amira. /FILE
"Since y'all been restless tagging me left, right and centre, here is my response. That apology has taken me back to one of the darkest places I have ever been in my life because I have reflected on so much that happened in public and behind closed doors and it has triggered a lot of emotions.
"It's heavy, I can't comprehend right now but I ask Allah to give me grace. Some wounds just don't heal, you have to learn how to live with them," she wrote.
It comes amidst a large number of Kenyans begging Amira to accept Jamal's apology after he expressed his remorse for causing her untold emotional pain and disrespect which led to the couple separating.
"Am here rooting for Jey. You're the most patient and strongest person I Know. Just give him a second chance but with conditions. If you catch my drift. Love you both," begged Jamal's sister, Leila Hassan.
"Whichever way it goes, whether he's serious or not, whether she forgives or not, respect to him for accountability, publicly apologizing to her and owning up his mistakes," Marini Naturals CEO Michelle Ntalami weighed in.
Socialite Faith Makau, alias Amber Ray, who was the main reason the 17-year marriage between Amira and Jamal disintegrated, also urged the two to reconcile, in response to a fan who sought her comment on Jamal's plea to Amira.
Jamal noted that he was so hurt that he couldn't take it anymore, thus penning down the message with hopes of a response from her.
"If I'm being honest, this hasn't been easy for me to write. Out here I may seem okay but deep down I'm broken and I can no longer continue to live like this.
"Most of you if not all know what happened between me and my wife and how we came to the limelight. To say the least, it was chaos! It was messy! It was downright ugly! I may have seemed unbothered but I was helpless," he wrote in part.
Jamal admitted his wrongdoings and apologised to Amira for embarrassing her, even indirectly.
The Nairobi matatu boss had seemingly referred to Amira's altercation with socialite Faith Makau, alias Amber Ray, which occurred in Syokimau, Machakos County in the late night hours in June 2021.
"I knew it was wrong, I knew you were hurting but I just couldn't get myself together! Amira, I am doing this because the disrespect was also as loud.
"I apologize for all the disrespect, for all the embarrassment, for all the hurt, for all the pain, for all the trauma. I am sorry for all the times I haven't been the man I promised to be," he added.
Jamal further pleaded with Amira to forgive him, adding that their relationship had many of its unforgettable memories.
Amira during a past interview with Radio Jambo.