I Did Not Want Alfred Mutua- Liz Jackson
Liz noted that Mutua had interacted with journalists at State House who had arrived to cover the event before moving to greet her.
Liz Jackson of SPM Buzz meets Foreign Affairs CS Alfred Mutua on November 9, 2022 at State House. /TIKTOK.LIZ JACKSON
SPM Buzz reporter, Liz Jackson, has clarified that she was not intent on asking out Foreign Affairs Cabinet Secretary (CS) Alfred Mutua following their meeting at State House which went viral on Wednesday, November 9.
Speaking to the Nation on Wednesday, November 23, exactly two weeks after the interaction was captured on camera, the 23-year-old journalist noted that nothing was planned romantically behind the scenes in response to a previous podcast hosted by the online media house run by comedian Eddie Butita.
She remained rooted to the purpose of asking for Mutua's contacts to secure an interview with him in the future, as she had previously told Viral Tea.
Liz noted that Mutua had interacted with journalists at State House who had arrived to cover the event before moving to greet her.
"Hiyo imeenda..."

When Liz Jackson of @spmbuzzke met CS Alfred Mutua at State House...@LIZ_W_JACKSON#ViralVideos pic.twitter.com/e8pxWRiPNG

— Viral Tea Ke (@ViralTeaKe) November 10, 2022
Nonetheless, she reiterated that she would like a man who makes more money than she does, standing firm on her demands for a man's net worth as she cannot date someone who earns less than what she pays for her monthly rent.
"Guys have connected what I said in the podcast and me taking the CS's phone number. The truth is that he was not a target, and nothing was planned. But I still want a man who earns more than Ksh90,000; I just can't date anyone earning less than I do.
"I mean Ksh90,000 is just my rent. Don't get me wrong money isn't everything but where I draw the line is how this person is treating me. Having a lot of money does not mean that you get to control me. I want to be able to pursue my dreams and be the greatest person I can be," she said, adding that not even a 'sponsor' has the ability to control her.
Liz revealed that she is single, adding that "unless there is a billionaire who wants me right now. My ideal man has to make more money than I do, have a good car, and a house in the suburbs, and he should be generous."
Dr Kennedy Ongaro, a sociologist and professor at Daystar University in Nairobi, was previously of the view that women of the modern generation were considering protective factors in a potential suitor, including power.
"We also need to understand the society we live in, most women are particularly looking for issues in protective factors. When you talk about protective factors, you talk about social connections and concrete support in times of need.
"We need to understand that many times when you deal with these particularly high profile people; why do women need highly profiled people? They are attracted to power and it is every woman's dream to have a good life and a luxurious life without working hard," he told Viral Tea.
Dr Ongaro further viewed that women can adequately take care of themselves and accord themselves the best self-treatment, which raises their social profile and makes them attractive. As a result, they want to be associated with power.
How Liz Jackson Landed At State House By Surprise
In terms of how Liz ended up covering the media address by President William Ruto and his South African counterpart, Cyril Ramaphosa, Liz revealed that she received an invite 40 minutes before the event was to start.
"I went to State House, but I was very scared and up until I got into the gate, I did not even know what was happening. I asked my colleagues what was happening, and they filled me in, and I started to research questions to ask.
"President William Ruto and Cyril Ramaphosa of South Africa arrived, and they went inside the State House. We remained outside and the sun was very hot that day. If you see my pictures my makeup was even off," she added.
Following their address, the two Heads of States had opened the floor to questions, with Liz unexpectedly challenging them with regards to arts and entertainment, in response to their agreement to lift the visa requirements between the two countries, meaning Kenyans will travel to South Africa visa-free for up to 90 days a year.
Despite taking note of laughter from an individual in attendance, the CS had acknowledged her question when he turned back from the front seat he seated on in apparent acknowledgement.
Her day was to even turn brighter when President Ruto, amongst the collection of questions from journalists, opted to respond to hers first.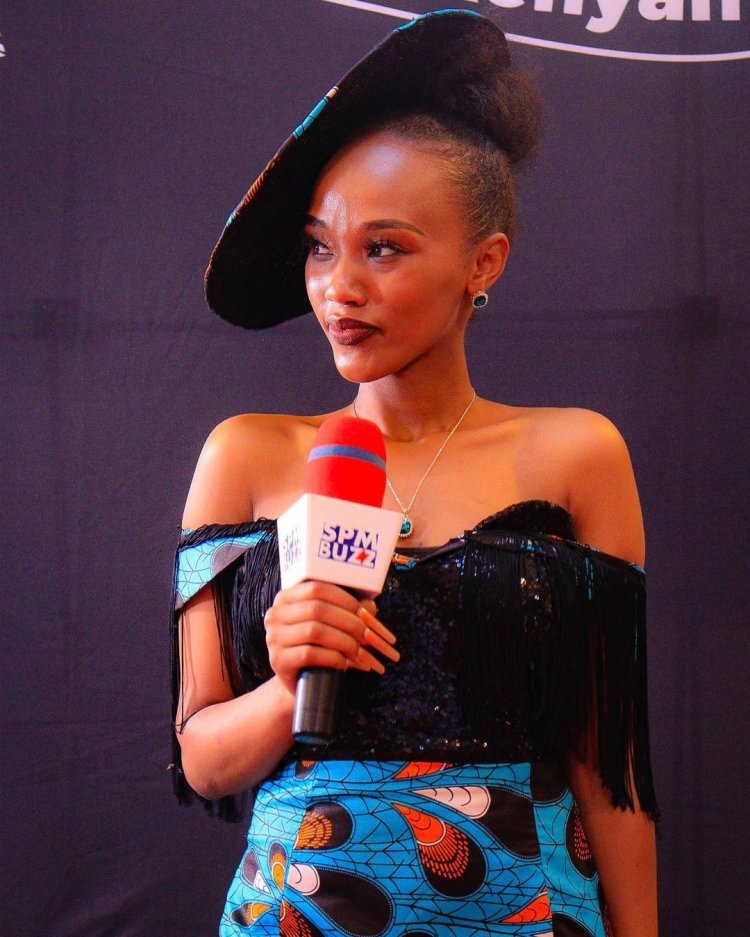 Liz Jackson posing for a photo. /INSTAGRAM.LIZ JACKSON