Ruto Hosts Bill Gates At State House [PHOTOS]
Gates is currently on a tour of Kenya, having landed on Tuesday, November 15 morning...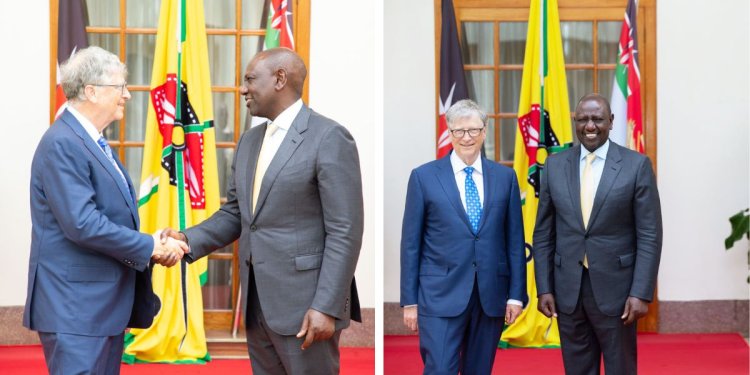 President William Ruto hosts Bill Gates at State House on November 16, 2022. /WILLIAM RUTO
American Philanthropist and Microsoft co-founder, Bill Gates, paid a surprise visit to State House in Nairobi where he was hosted by President William Ruto.
Gates is currently on a tour of Kenya, having landed on Tuesday, November 15 morning ahead of his anticipated engagement with various delegations across the country. Reports had indicated that he would engage national and county government officials over various projects he is undertaking in the country.
Gates had passed by Nairobi Governor Johnson Sakaja's office before he passed by the highest house in the land where he held talks with President Ruto involving food security and Universal Health Coverage (UHC) in Kenya.
President William Ruto hosts Bill Gates at State House on November 16, 2022. /WILLIAM RUTO
"We appreciate the support the Bill & Melinda Gates Foundation continues to extend to Kenya in realising our development goals, especially in the areas of healthcare, agriculture and ICT sectors. We will continue to collaborate towards the realisation of food security and universal health coverage in our country.
"Hosted the co-chair of the Bill & Melinda Gates Foundation, Bill Gates at State House, Nairobi," Ruto tweeted.
"Held talks with Gates Foundation Global Director for Primary Health Care Tracey Mcneill and the team from the Bill and Melinda Gates foundation. We look forward to a strong partnership in strengthening Primary Health Care in Nairobi as we implement our Taskforce recommendations," Sakaja stated earlier.
Gates had specifically visited Makueni County and was hosted by Governor Mutula Kilonzo Jnr. He was carrying out a benchmarking exercise and showed particular interest in how the Mother and Child Hospital in Wote provided residents with quality healthcare despite receiving only 50 per cent support from Kenya Medical Supplies Authority (KEMSA).
"At the meeting with the council of governors and the meeting with the national government level, they want to see whether we can replicate what is happening here in Makueni in other counties,".
"They are looking at mass production so that they can then help the country as a whole. So this is just a benchmarking visit, a learning experience so that they can ask the various counties what they are doing and see whether they can do sort of what I call one-sides-fits all thing that they can fund because they do not do little things. They fund in huge quantities," Mutula Jr stated.
Gates also sought to know the well-being of Makueni residents and how they were coping with the ravaging effects of climate change.
"Bill Gates has visited a private farm practising smart agriculture which he is very passionate about, and he will later speak about effects of climate change and food security," Mutula told the press on Tuesday.
The billionaire is also expected to announce the foundation's forward-looking commitment to supporting innovations and ingenuity aimed at improving health, food security, and gender equality in African countries.
He will also be expected to engage university students at the University of Nairobi (UoN) in a hybrid conference to be moderated by former Citizen TV journalist Uduak Amimo on Thursday, November 17.
"The hybrid event will include a live audience of 500 students from universities in Nairobi and a virtual audience of students from universities across the continent. The 60-minute moderated town hall format will focus on the challenges and opportunities in food security and climate adaptation in Africa," UoN stated.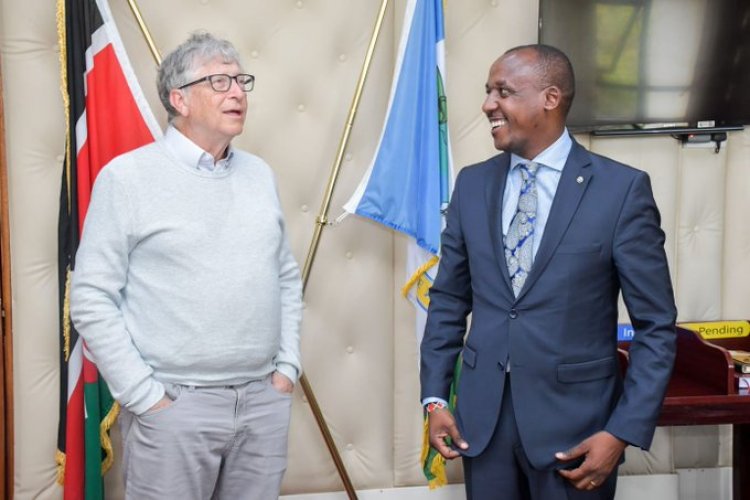 Bill Gates with Makueni Governor Mutula Kilonzo Jnr.
/FILE