Voice Status: Inside WhatsApp's First Major Change Of 2023
The new ability is currently available with the latest WhatsApp beta for...
People using WhatsApp on their phones. /BBC
It will sound like a fantasy but soon you will be able to share your voice note on your WhatsApp status.
The popular messaging application under Meta, the parent company of Facebook and Instagram, will roll out a new feature that will allow users to showcase their hidden sultry voices to the contacts viewing their statuses daily.
A report by WABetaInfo, the online WhatsApp feature tracking platform, revealed on Wednesday, January 18 that the new ability is currently available with the latest WhatsApp beta for Android 2.23.2.8 update on the Google Play Store.
A screenshot of WhatsApp voice status. /WABETAINFO
This means that beta users may not get it just yet as it is still under development, with some Android beta users allowed to test it for the first time.
"The ability to share voice notes via status updates is available for some lucky beta testers after installing the latest beta from the Google Play Store, and it is rolling out to even more users over the coming weeks," WABetaInfo stated in their post.
The voice status feature is available within the text status section, with WhatsApp users soon also having the ability to delete their voice recordings at will before sharing them.
The maximum recording time for a voice note is 30 seconds. Voice notes shared as status updates will be end-to-end encrypted.
Just like the normal WhatsApp status, voice status updates once shared will disappear after 24 hours, similar to the images and videos.
Users will also have the ability to delete voice notes for everyone after they have been posted as status updates.
The feature could provide Android users with a saving grace in terms of sharing their voice statements on social media, as Twitter, the only other app that allows one to share a voice status update, is only available to iPhone users, even though the audio forums dubbed Twitter Spaces exist.
It could also take the fight to podcast hosting platforms in a space that has grown in so much popularity that almost anyone you meet would want to start a podcast at some point.
WhatsApp in 2022 introduced seven major changes to its platform, with the Communities tab being the latest one before the close of the year.
Communities like neighbourhoods, parents at a school, and workplaces can now connect multiple groups together under one umbrella to organize group conversations on WhatsApp.
Once you're in a community, you can easily switch between available groups to get the information you need, when you need it, and admins can send important updates to everyone in the Community
"With Communities, we're aiming to raise the bar for how organizations communicate with a level of privacy and security not found anywhere else. The alternatives available today require trusting apps or software companies with a copy of their messages - and we think they deserve the higher level of security provided by end-to-end encryption," the platform said in its blog post.
Other changes include doubling the WhatsApp group limit from the previous 512 members to 1,024 members from when it began at 256 members. In-chat polls, video calls of up to 32 people, call links, large file sharing and group admin deletion were also rolled out.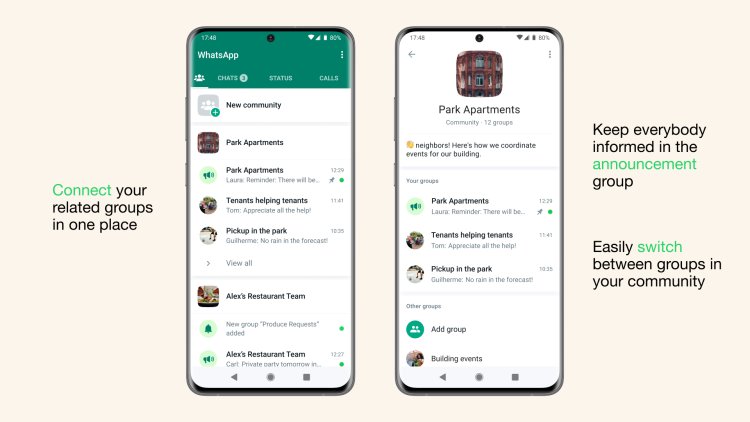 A screenshot of how to use the 'Communities' tab. /WHATSAPP